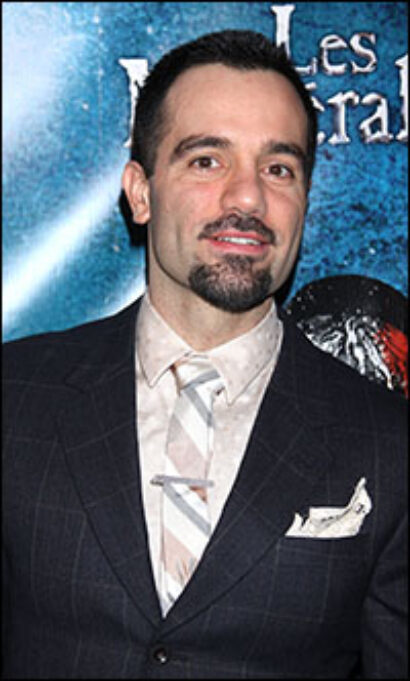 Elaine Kline: Ramin Karimloo as the beast!! His baritone voice fits perfectly!
Stephanie Ann: Ramin Karimloo!!!! It just has to be!!!!!
Sebastian Antonio: Ramin Karimloo. Could you imagine his version of "If I Can't Love Her" ??
Many readers were keen to see Ramin Karimloo take on the Beast. Iranian-born, Canadian performer Karimloo was hand-picked by Andrew Lloyd Webber to portray the lead role in his Love Never Dies in London's West End. Last year, Karimloo played the Phantom again for three performances alongside his Love Never Dies co-star Sierra Boggess in the 25th anniversary production of The Phantom of the Opera at Royal Albert Hall. He currently stars as Jean Valjean in the Broadway revival of Les Misérables, a performance which earned him a 2014 Best Actor Tony Award nomination.
Diana Puertas: Aaron Tveit would be a fantastic choice
Hadley Evans Nash: Aaron Tveit. Cause always Aaron Tveit.
Aaron Tveit was another popular choice. After touring nationally with Rent and Hairspray, Tveit made his Broadway debut as Link Larkin in Hairspray in 2006. Further Broadway credits include Fiyero in Wicked, Gabe in Next To Normal and Frank Abagnale Jr. in Catch Me If You Can. He played Enjolras in the feature film adaptation of Les Misérables in 2012 and stars as Mike Warren in the television series "Graceland." Tveit is currently playing in the sold-out London revival of the Stephen Sondheim musical Assassins, but, as was recently reported on Playbill.com, he will depart the production early due a change in schedule for his ongoing role in "Graceland."
Darren Criss
Noel Chatherine: I think Darren Criss would be a good choice – just give him a little time to grow his hair back out!!
Darren Criss was one of the few younger choices from Playbill readers for the role of the Beast. In spite of his youth, Criss has managed to build a very successful career as a performer. Star of the stage and screen, Criss launched his Broadway career in How to Succeed in Business Without Really Trying, succeeding Daniel Radcliffe in the lead role of J. Pierrepont Finch. Criss is best known for his portrayal of openly gay student Blaine on the popular television series "Glee." His first musical number on the show, a cover of Katy Perry's "Teenage Dream," became the fastest-selling "Glee" single and reached number eight on the Billboard Hot 100. He recently released a solo EP and starred alongside Kristen Wiig in the film "A Girl Most Likely."
Gerard Butler
Chris Symon: Gerard Butler…Let's bring some fresh meat in
Jaime Hein: Gerard Butler!!!
It's no surprise that readers were eager to see Gerard Butler fill the role of the Beast, following his recent spoof of "Beauty and the Beast" with Kristen Wiig on "Saturday Night Live." Butler has yet to make his Broadway debut, but has been featured in numerous films, including the blockbuster "300" and the popular romantic comedy, "P.S. I Love You," starring alongside Hilary Swank. Though not a trained singer, Butler proved his singing chops as the title role in the 2004 film adaptation of Phantom of the Opera.
Courtney Chatmans-Bowns: Hugh Jackman!!!
Scott Burr: Hugh Jackman – Wolverine Beast
Brenda Freebourn: Hugh Jackman. Tall, can sing, can dance, great voice for speaking lines. Handsome when he becomes the prince. No brainer!
Having garnered international recognition as the beastly Wolverine in the "X-Men" Blockbuster movie franchise, Australian native Hugh Jackman was an obvious choice for many Playbill readers. Jackman won the Tony Award for Best Leading Actor in a Musical for his performance in The Boy from Oz and has also been seen on Broadway in the two-hander Steady Rain and his critically acclaimed solo show Hugh Jackman, Back on Broadway. He is currently starring on Broadway in The River, playing the Circle in the Square Theatre. In 2012 Jackman was awarded a Special Tony Award for Extraordinary Contribution to the Theatre Community. He also played Jean Valjean in the film adaptation of "Les Miserables", for which he won the Golden Globe Award for Best Actor in a Comedy or Musical.
Marco De Ninis: Norm Lewis!!!!
Maceo Torrance Cortezz: NORM LEWIS
Norm Lewis currently stars in the title role of Broadway's Phantom of the Opera. Other Broadway credits include The Wild Party, Side Show, Les Misérables and Porgy and Bess alongside Audra McDonald, for which he was nominated for a Tony Award for Best Actor in a Musical. He also has strong Disney ties, having starred as the overpowering and fierce King Triton in Broadway's Little Mermaid.
Suzanne Connell: Constantine Maroulis
Brian Sidders: (today's math)…Constantine Maroulis + his hair + "If I Can't Love Her" = GENIUS
Perhaps it was Constantine Maroulis' recent return to Broadway's Rock of Ages that inspired Playbill readers to picture him with his untamed hair and rocker attitude in the role of the Beast. Maroulis received a Tony Award nomination for his performance in the rock musical in 2009 and recently returned to the show for its final months on Broadway. On Broadway, he has also starred in Jekyll & Hyde and The Wedding Singer. Maroulis became a household name following his appearance on the fourth season of the popular TV series "American Idol."
Matthew Curtis: Harvey Fierstein…it just makes sense
This wild card entry by a Playbill reader seemed too perfect not to include. Fierstein's signature gravelly voice would make for an interesting Beast unlike any other. Actor and Playwright Fierstein has won four Tony Awards and been nominated seven times, for both his performances and his writing. In 1983 he famously won the Tony Awards for both Playwright and Actor in a Play for Torch Song Trilogy. His numerous works include Hairspray, La Cage aux Folles, Casa Valentina, A Catered Affair, Kinky Boots and Newsies.