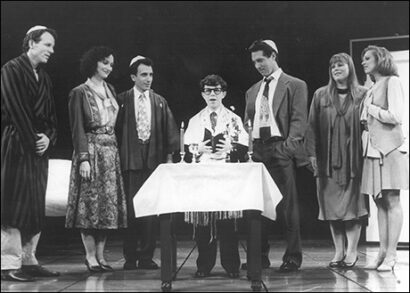 @playbill seems obvious to me. Norbert Leo Butz as Marvin, Adam Kantor as Whizzer, Kelsey Grammer as Mendel.

— kevin laibson (@kevinlaibson) February 26, 2015
Norbert Leo Butz as Marvin
Many Playbill.com readers were adamant that Norbert Leo Butz would be an ideal fit for the struggling, open-hearted role of Marvin, who is at the center of Falsettos — perhaps because Butz was last seen on Broadway as the father in Big Fish, giving an impassioned performance. He is one of only nine actors to have won the Tony Award twice for Best Leading Actor in a Musical. Butz made his Broadway debut as Roger Davis in Rent in 1996 and has since starred in Thou Shalt Not, Wicked and Dirty Rotten Scoundrels.
Adam Kantor as Whizzer
Adam Kantor would be a great fit for Whizzer, a pretty boy with just the right amount of attitude. Kantor recently gave a heartfelt performance as Jamie Wellerstein in the Off-Broadway revival of Jason Robert Brown's musical love story The Last Five Years. Kantor's Broadway credits include Next to Normal and Rent, and he was in the new Sheryl Crow musical Diner, recently seen at Virginia's Signature Theatre.
Kelsey Grammer as Mendel
Chip Zien left an indelible mark on the role of Mendel, Marvin's neurotic psychiatrist; however, it's not difficult to imagine "Frasier" star Kelsey Grammer also doing a stellar job as the manic shrink. Grammer will soon return to the Broadway stage in Finding Neverland, the story of how J.M. Barrie came to imagine the world and characters of Peter Pan. Grammer stars as his haunting and comic alter ego, Charles Frohman, the playwright's original inspiration for Captain Hook. Grammer was last seen on the boards in 2010 in La Cage aux Folles in the central role of Georges.
@playbill @Jordan_Roth Christian Borle for Marvin. @StevePasquale for Whizzer.

— Kelly Fitzgerald (@closer2fine) February 27, 2015
Christian Borle as Marvin
Another Tony-winning actor, Christian Borle, was also recently seen in the role of an earnest father-figure, that of Mr. Darling in the NBC "Peter Pan Live!" event, which was broadcast to millions of viewers nationwide in December 2014. Borle won his Tony for his work in Peter and the Starcatcher, and was also seen in Mary Poppins and Legally Blonde. Borle starred as Tom Levitt in the NBC musical-drama series "Smash" and will next be seen on Broadway in the anticipated new musical comedy Something Rotten.
Playbill.com readers also suggested Tony nominee Steven Pasquale for the role of Whizzer, perhaps because he was such a convincing and impassioned lover in the Jason Robert Brown musical The Bridges of Madison County. Pasquale is best known for his role in the critically acclaimed TV series "Rescue Me" and was also the leading man in the NBC series "Do No Harm."
Jenn Jenn N: I'm not sure about Marvin yet, but what about Cheyenne Jackson as Whizzer?
Cheyenne Jackson as Whizzer
Broadway heartthrob Cheyenne Jackson has both the acting and singing chops for a role like Whizzer, having performed in Xanadu, Finian's Rainbow and All Shook Up. Having focused on film, TV and his solo music career for a while (a favorite on "Glee" and "30 Rock"), he recently returned to the stage in the City Center Encores! production of A Most Happy Fella. Jackson also recently finished his Café Carlyle debut, an acclaimed, eclectic solo show.
@playbill Ok... Cheyenne Jackson as Marvin, Nick Adams as Whizzer....

— Don Rumgay Jr (@donrumgayjr) February 25, 2015
Nick Adams as Whizzer
For some, Cheyenne Jackson is a more suitable Marvin. The talented actor could undoubtedly play both, but it would be interesting to see Jackson's Marvin alongside Nick Adams' Whizzer as one Playbill.com reader suggested. The handsome Adams would be a terrific fit for the role of the young lover who matures into a loving partner and mentor. Having recently played Fiyero in the national tour of Wicked, Adams' Broadway credits also include such gay-themed classics as Priscilla Queen of the Desert and La Cage aux Folles.
Kate Baldwin as Trina
Tony nominee Kate Baldwin is already familiar with Falsettos, having played Cordelia in the Huntington Theatre's production in Boston. We'd like to see her switch it up and give Trina a go, the somewhat neurotic Jewish mom and ex-wife to Marvin. Baldwin currently stars in the Off-Broadway revival of Andrew Lippa's two-hander musical, John & Jen. Her numerous Broadway credits include Finian's Rainbow, for which she was Tony,nominated, as well as Big Fish, Wonderful Town and Thoroughly Modern Millie.