It's been an exceptionally busy time for Kate Rockwell, who plays Karen Smith, the most intellectually challenged member of The Plastics in Broadway's Mean Girls. Rockwell, whose Broadway credits also include Bring It On The Musical, Rock of Ages, Hair, and Legally Blonde, is nominated for a Drama Desk Award for her performance as Smith, a part that earned the actor a Helen Hayes Award nomination for the musical's Washington, D.C., tryout. Rockwell also released her debut solo recording, Kate Rockwell: Back to My Roots, last month on the Broadway Records label. On the new disc, the actor wraps her powerful voice around tunes from the shows that inspired her to pursue a career on Broadway, including Jekyll & Hyde, Evita, and Little Shop of Horrors. And Rockwell will join fellow Mean Girls Taylor Louderman and Ashley Park to co-host the 2018 Drama League Awards May 18 at the Marriott Marquis Times Square.
We recently asked Rockwell to pen a list of her favorite theatregoing experiences.
Glenn Close in Sunset Boulevard

Yes, the revival. While I am older than I look, I didn't get to see the first time she played this role. Watching Glenn Close, who I've admired for years, walk down that grand staircase was watching poise personified, and watching her fall apart at the end made me wonder how any actress survives the final chapter of her career. I was both living in her performance and simultaneously spying on her, actress watching actress, hoping to gain some tiny grain of her grace and her gravitas by being in that room.
Neil Patrick Harris in Hedwig and the Angry Inch

I hadn't seen any production of this show before, and I was blown away. First of all, watching this famous actor drop his squeaky clean comedic face and get down and dirty was so thrilling. At the end I just sat there with my mouth wide open. But as someone who also jumps around in high heels for a living, I was also watching him thinking, "Dear God, if I tried that I'd break my ankle" and also "I'm so jealous of how many calories he's burning right now. I bet he can eat a pizza every night and not even feel guilty."
Katrina Lenk in Indecent and also The Band's Visit

And also can I include her performance in the Miscast benefit earlier this year when she performed "If I Were a Rich Man" with her viola as if it were just another appendage she was born with? I want to be this woman when I grow up (she's only, like, three years older than me). To me, she is the walking manifestation of "I have a secret." She always looks like she knows something you don't, and I really want to know what it is. She makes the most dense dialogue seem simple and the most simple dialogue seem to mean three things at once.
Steven Boyer and Sarah Stiles in Hand to God

I have a huge crush on Robert Askins, so when I went to see this play I was a combination of intensely jealous of everyone in it and also already their biggest fan. What Steven Boyer did every single night is one of the most miraculous physical performances I've ever seen. I know puppetry is its own skill outright, so there's that, but then to give both characters such depth while also mastering the very difficult sardonic voice of the comedy was worth drooling over. I was terrified of that damned puppet. And, watching Sarah's performance in the puppet sex scene is one of my all-time favorite things I've seen onstage.
Rob McClure in Something Rotten!

Rob is a friend, so maybe I'm biased here. But that role is a monster, and he made it so human and loving and hopeful!! I felt so awful for him every single time he got in his own way and kept hoping he would quit it, even though I already knew how the story went! Rob is a master of both comedy and rendering his audience putty in his hands without even saying a word, and I feel like watching him perform is a master class every time.
Daniel Radcliffe in Equus

At the end of this performance, I turned to my friend who came with me and said, "I hope they've gotten a therapist for that kid because I'm not sure he's going to be OK after telling this story like that every single night." It was so raw and painful to watch, and especially since it was coming from an actor who, in his childhood, created one of the most famous roles in cinematic history, I felt it was completely unexpected. I adored him in this.
LaChanze in Dessa Rose

What struck me watching this production at Lincoln Center was the way LaChanze aged into and out of two extreme ages from scene to scene. Playing 16 and 80 in one show is not something asked of many actresses (because it's insane), and I can still picture the way she seamlessly moved from tall spine, quick moving, high energy into stooped, crooked, weighed down. And, it wasn't that her physicality defined the characters as they aged—it was just a by-product. She was able to "chameleon" into them both as if they were just another skin.
Robin Williams in Bengal Tiger at the Baghdad Zoo

I don't believe this man had a single line onstage that wasn't a monologue. He "monologued" the entire show, even though there were several actors onstage. And not to take away from the performances the rest of the cast gave, but I didn't take my eyes off Robin for a second. There was a wildness to his performance that I didn't expect from him, and while I knew him to be equally skilled in drama as he was in comedy, it was still a little shocking to see him so predatory. He had always been one of my heroes, and seeing him onstage was a thrill. I still wish I could get another chance.
Leslie Odom, Jr. in Hamilton

This man really knew what was going on while it was going on, and it was thrilling. Watching someone living in a moment that was life-changing, and knowing it was life-changing, and him knowing it was life-changing, was electrifying. His performance simmered from the minute he began the show, and by the time he got to explode with "Room Where It Happens," I was sitting on the edge of my chair with wide eyes, trying to live in that moment with him. Some actors in that position would sit back and relish the fact that the show was a hit so they don't need to work that hard, but not Leslie. I think he enjoyed every second of that show, and he passed that joy onto his audiences.
Beth Leavel in The Drowsy Chaperone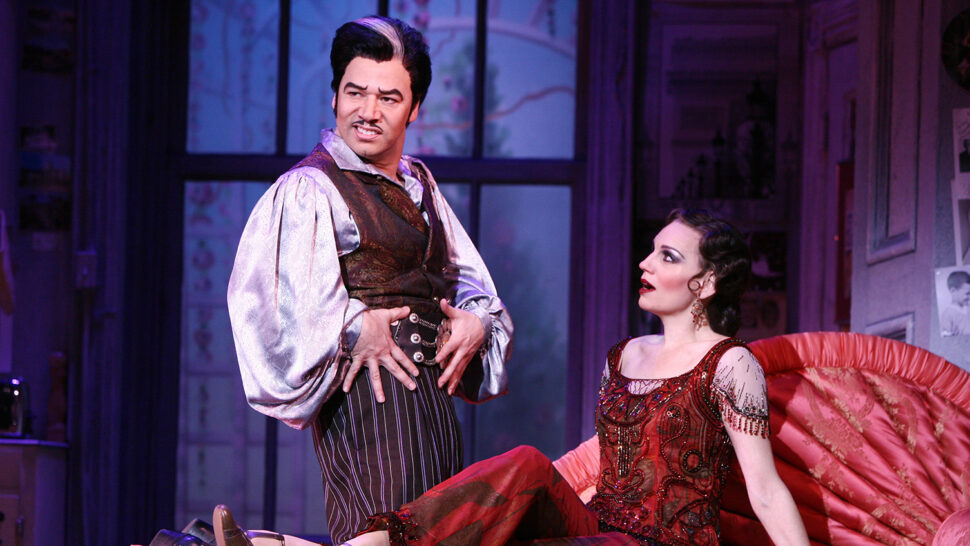 I haven't actually told Beth Leavel that she's my number one role model onstage, mostly because I'm a big chicken, but I have told Casey Nicholaw that this role is what made me want to be a musical comedienne, so maybe he can tell her for me in Prom rehearsals in the fall. I will never get over the scene where the cane drops in the middle of her line. Never. Her comic timing and her ability to ride the line between not big enough and Waiting for Guffman is just impeccable. I want her to teach a class called "How to Be Funny Like Me," and I will be the first person to sign up. And, also a shout-out to Danny Burstein because I still, to this day, use his Aldolpho "Whaaaaaaaaaaaat?" line reading whenever something shocks me. It only works with my musical theatre friends, but that doesn't stop me from trying it out on strangers.
Read: THE 7 FACES OF MEAN GIRLS' KATE ROCKWELL