Eric William Morris
can currently be seen as Carl Denham in
King Kong
, the new Broadway musical based on Merian C. Cooper's 1932 adventure novel that inspired the 1933 Hollywood classic—and a subsequent film franchise—at the Broadway Theatre. Morris co-stars with Christiani Pitts as Ann Darrow, Erik Lochtefeld as Lumpy, and a 20-foot-high, 2,000-pound silverback gorilla whose lifelike face is capable of expressing a breathtaking range of emotion.
We recently asked Morris, whose Broadway credits also include
Mamma Mia!
and
Coram Boy,
to pen a list of his most memorable theatregoing experiences; his responses follow.
Bill Irwin in Who's Afraid of Virginia Woolf?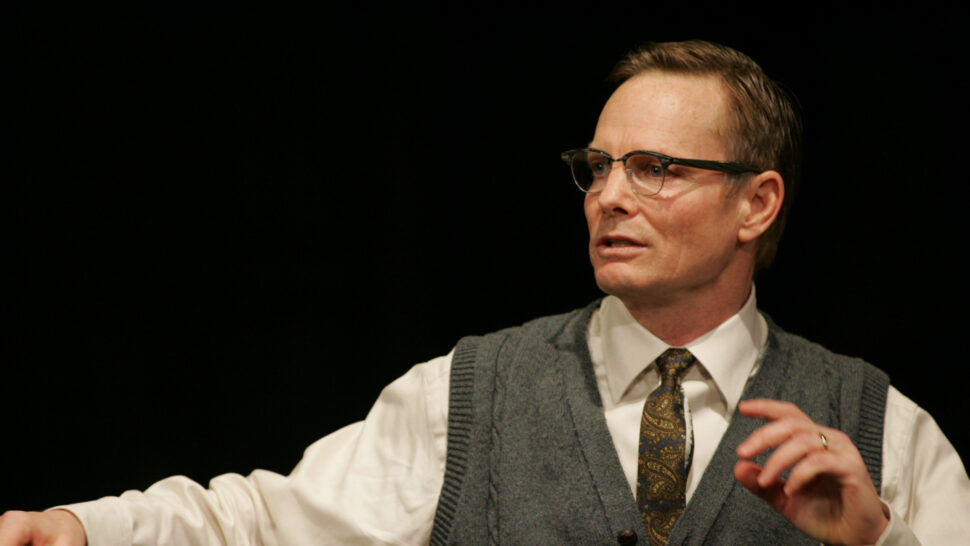 This was the first play I saw when I moved to NYC. Stunning. The whole cast was phenomenal. I'm not the first human being to call Bill Irwin a genius, but this was my first experience watching him onstage, and it was an evening I'll never forget.
The Cast of Fences at The Everyman Theatre, Baltimore
I was 19 years old when I saw this production led by Charles S. Dutton. It was performed in a black box theatre, the audience surrounding all of the action that takes place in Troy's backyard. In the best possible way I felt like I was watching something I shouldn't have been watching. Gorgeously acted.
The Cast of 25th Annual Putnam County Spelling Bee
I went to Circle in the Square Theatre School while this brilliant musical was playing there. I got a job as a porter on that show, which meant that I cleaned the theatre up after the show. Which meant I got to watch the show as much as I wanted to. Which meant I saw it over 70 times. Which meant I got to see that
genius
cast fully come to life every night and delight every audience that was lucky enough to see them play.
The Cast of Penn State's production of Joe Iconis' Love in Hate Nation
Directed by the head of PSU's Musical Theatre Department, John Simpkins. There's something extremely special about watching an ensemble of college students playing a group of outcasts who can't wait to break out of their cage and punch the world in the face. Truly thrilling.
Joe Mantello in The Normal Heart
Do not go gentle into that good night. Rage, rage against the dying of the light. Amen.
The Cast of Bess Wohl's Small Mouth Sounds at Ars Nova
A play about a silent retreat. What can be said without words?...A whole damn lot. Special shout out to Erik Lochtefeld, who I get to share the stage with every night in
King
Kong
… cuz he destroyed me at the end of this play.
Jessica Almasy in Tectonic Theater Project's Uncommon Sense
I've never met her, but she's on my list twice (she was also in
Small Mouth Sounds
). The stories of people living with autism in this show about "autism and the spectrum of love" was incredibly moving. I was with Jessica Almasy on every second of her journey.
Frank Langella in The Father
I remember about 20 minutes into watching this production when it hit me: "Oh my God….we're all going through this with him." A true master. Heartbreaking.
Tonya Pinkins in Caroline, Or Change
This is a cheat…I moved to NYC three days after this show closed. But guess what? I went to the Lincoln Center Library, and I watched the archive footage. Beautiful. Raw. Real. Watching her in this role is a master class in bringing your heart and guts into your singing.
The Cast of Les Misérables, Imperial Theatre, April 1998
I was 15 years old. It was the third Broadway show I'd ever seen. We sat eighth row, center orchestra. What was this liquid rolling down my face? I very clearly recall sitting in that theatre and thinking, "You know what?… I may have to do this."