This week Playbill catches up with Tony winner Shuler Hensley, who is currently playing Marcellus Washburn opposite fellow Tony winners Hugh Jackman and Sutton Foster in the Broadway revival of Meredith Willson's The Music Man at the Winter Garden Theatre.
Hensley's professional theatrical career began in London, where he played Jud Fry (opposite the Jackman's Curly) in the National Theatre revival of Oklahoma!, winning the Olivier for his performance. His Broadway debut followed in November 2000, portraying Javert in Les Misérables. In February 2002, the Trevor Nunn-directed Oklahoma! transferred to Broadway, with Hensley winning Tony, Drama Desk, and Outer Critics Circle awards for his work as Jud. His Broadway credits also include Disney's Tarzan; Mel Brooks' Young Frankenstein, in which he originated the role of The Monster; Jez Butterworth's Tony-winning The Ferryman; and Waiting for Godot. Off-Broadway, Henley starred in The Whale, for which he received the Lucille Lortel and Obie Awards; Sweet and Sad (Drama Desk Award for Outstanding Ensemble); That Hopey Changey Thing; The Great American Trailer Park Musical; and Sweet Charity, opposite Foster.
Hensley, who is the artistic director of Atlanta's City Springs Theatre Company, has appeared on screen in The Greatest Showman, Van Helsing, The Legend of Zorro, Monday Night Mayhem, Odd Thomas, Someone Like You, Opa!, Murder of a President, The O.A., Shades of Blue, The Americans, Elementary, The Jury, and more.
Checking In With… Tina—The Tina Turner Musical Star NaTasha Yvette Williams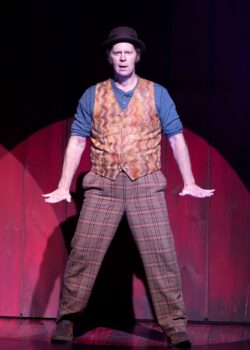 What is your typical day like now?
Well, there is really no typical day anymore. It has all been about staying safe, healthy, and creative. Trying to be vigilant with mask wearing and isolating as much as possible. Getting exercise by walking everywhere. Working on a variety of creative projects from performing in Music Man at the Winter Garden to helping run, maintain, and set up regional theatre productions at City Springs Theatre Company in Atlanta. Also, making sure to stay connected to family and friends every day. Simple conversation is so important to staying emotionally healthy!
Can you describe how it felt to be back in a rehearsal room the first day you and the company assembled?
It reminded me of the time I had lost my wallet at the airport. I remember thinking that everything I needed was in that wallet—what was I going to do without it? Then the moment I was approached by an airport worker who had found my wallet and gave it back to me: the sense of joy, relief, appreciation! I remember telling myself, "I will never let you out of my sight!" That was the exact feeling.

Are there any parts of your role or the musical that seem particularly poignant/relevant following the events of the past two years?
Music Man is a musical that most everyone knows. The songs, the story, the characters are all a part of our history as theatregoers and performers—something special that gives us a connection to each other. For the last two years, we have been without that sort of connection. To witness, first hand, the healing power of live theatre is an absolute honor.

You've worked with Hugh Jackman a few times before The Music Man. Tell me about sharing the stage/screen with him.
Hugh and I have been friends for almost 25 years, and although we haven't been on stage together since Oklahoma! in 1999, it feels like we never left. Complete and utter fun! Hugh is the type of actor/human being that is so open, sincere, and honest that you feel as though you can do anything together. He finds joy in every show, every moment, and that is so contagious. He, quite honestly, makes you a better performer.

You're also the artistic director of City Springs Theatre. What are some of the rewards and challenges of being on the other side of the footlights?
I feel that being a working actor myself gives me a unique understanding of what my fellow actors are going through. One of the most rewarding parts of the job is being able to provide performing and networking opportunities to local actors, particularly in the Atlanta area, where there is so much amazing professional talent. And, to connect these actors with directors, choreographers, and music directors, who I have worked with in New York and other parts of the country. Keeping theatre going these last two years has been a real group effort. We have an amazing, supportive community of theatre lovers, and working through COVID has been a challenge, but we've worked hard to put protocols in place that keep our actors safe and healthy during this difficult time
What would you say to audience members who may be feeling uneasy about returning to live theatre?
I do completely understand the concerns of returning to the theatre. I feel that we have learned a great deal about how to keep each other safe while navigating this unprecedented time. I do see a marked increase in confidence from our own crowds at Music Man. There is a real excitement and appreciation in the air that signals a growing confidence in returning to the magic of live theatre. We will get through this!
During this time of reflection and re-education regarding BIPOC artists and artistry, particularly in the theatre, what do you want people (those in power, fellow artists, audiences) to be aware of? What do you want them to consider further?
I would love for all of us to understand that this is not a phase or a movement but is an actual evolution. Theatre and art is the story of the human condition with all its diversity, color, and form.

What advice would you give to someone who may be struggling with the isolation and/or the current unrest?
That you are not alone. We are in this together. Reach out to others, even for a daily conversation, for those moments of connection. And, stay present. So many problems arise in us from our regret of the past and fear of the future. But if we can stay present, in the moment, it helps.
What, if anything, did you learn about yourself during the past two years that you didn't already know?
That, ultimately, I am responsible for how I am going to react to things. Learning that things, situations, comments of others can not affect you unless you let it. And, above all, try the simple act of kindness. There has never been a problem created from being kind.

What organization would you recommend people learn more about or donate to during this time of change?
UNICEF, The BIPOC Project, Covenant House. Also, any donation of your time where you are actively involved (local organizations, churches, shelters, etc.). Actively participating can be more meaningful for you and the people you're helping.

Checking In With… Hadestown Star Kay Trinidad