In a pandemic-induced season of pause and reflection, it seems that Amber Iman is sprinting full speed. Since 2020, Iman has raised the bar for all those seeking to be labeled a "multi-hyphenate" artist.
Amber made history when she was first woman—and first Black woman—to perform on Broadway after the pandemic shut down with a pop-up concert at the Broadway Theatre in April 2021. Her self-produced short film Steve has won Best Short, Best Comedy, and Best Actress in multiple film festivals around the globe. This summer, Iman will star in two separate highly anticipated Broadway-bound musicals: Lempicka at La Jolla Playhouse and Goddess at Berkeley Repertory Theatre. She is also the co-founder of two Broadway advocacy groups: Black Women on Broadway and Broadway Advocacy Coalition, the latter of which earned a Special Tony Award in 2021. Yet with all of these endeavors, the dynamic artist has maintained a sense of peace and balance that draws in everyone she meets.

Audible Theater has tapped the multi-faceted performer for their next offering at Off-Broadway's Minetta Lane Theatre. Her solo concert An Evening with Amber Iman opens April 21, for a run through April 23. The show, which will be recorded live and released as an Audible Original, will feature the Broadway veteran singing her way through love, loss, rejection, heartbreak, and joy.
Playbill sat down with Iman ahead of this latest venture to figure out how she makes sense of all of her projects and finds balance in her busy career.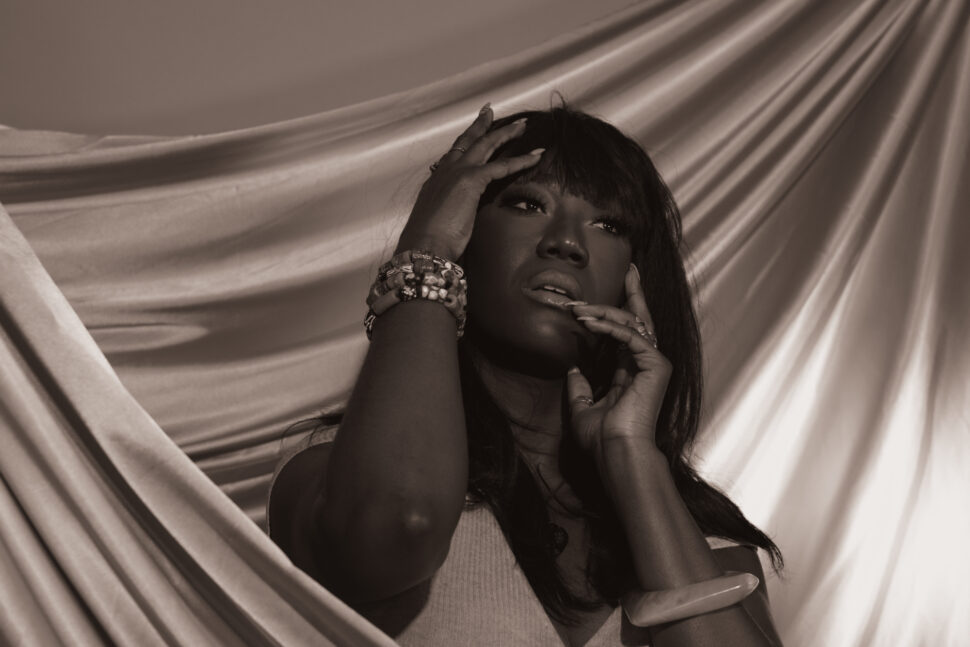 Playbill: What have you learned about yourself and your artistry in the last few years?
Amber Iman: I don't know if this happens in everyone's community, but especially in the Black community, humility is so important. We are taught early on: Don't get the big head, don't forget the little people, and come back to your community. It kind of instills in us this need to, not be small, but kind of play small. And I think it's an interesting thing when you wake up one morning and you're like, "I'm really good at what I do," or "I'm really good at a lot of things." Something really crazy happens when you give yourself permission to start believing that and walking in that.
I did write a short film. My first short, the first thing I've ever written has won best screenplay, best actor, and best short. It's been in international film festivals. I didn't know what I was doing. You start looking around like, "oh, I might be 'that girl,'" and then you immediately hear all the voices that are like, "be humble, calm down." I want to find that balance between not being braggadocious, but standing in my power and not downplaying my achievements. I have a great eye, not only for myself, but for others in my community, and I want to be okay saying that out loud. I have a resume. I have a great reputation because I plan and I prepare and I show up and you can depend on me, so I should be able to talk my shit. That's what I've learned about myself. I'm giving myself permission to talk my shit.

Some people feel like their entire identity is wrapped in their performances. Have your different projects shifted how you feel about yourself in that regard?
The past two years taught us all something about that because none of us were [performing]. Our purpose is so wrapped up in our profession that when we're not working, we don't take care of our bodies. We kind of lose a bit of ourselves. 2020 and beyond has really shifted the way I think about myself and what I contribute to the community. People would ask me, "Who is Amber Iman?" And I'm like, a Black woman trying to survive. A Black woman who is prioritizing her mental health and wellness. I'm still figuring out who I am and I think that's a wonderful thing. I know it's going to take some time, but I have a much healthier relationship with it and I don't think it's, "Oh, well, I haven't been on Broadway since…" Who cares. How am I? Am I okay? Am I practicing grace with myself? Am I speaking kindness over myself? Those are the things I want to resonate with others.
How do you find balance in your day-to-day life when you're working on all of these projects?
It's listening to my body. The balance is right there. The balance is your body screaming, "This is what I need," or your heart saying, "I need to go sit on my girlfriend's couch. I need to go hug up on my man or my boo." If you silence the voices around you and listen to what your spirit is telling you, I feel like that's how you get the balance. I know I need to be in therapy, that I need to eat (or drink) a vegetable, and I need to move my body. I feel better. I know the things that I need and I have to be intentional about getting them. That's how I deal with balance because I feel like it'll never be 50/50, right? It will always be 70/30, 60/40, etc. Just listen and the balance will come.

You've co-founded two different Broadway advocacy groups and have received a Tony Award for one of them. Do you think Broadway has made any strides in diversifying our theatres? And if not, what are some key issues you and your groups are currently working towards?
We all have to understand that the pandemic did not cure racism or sexism or homophobia. If those people were racist and sexist and phobic, they still are. We can't kid ourselves. It's not that I've given up on Broadway, it's just that the rich producers who don't care are still going to be rich producers who don't care. So what I want is for the community to rally around each other. I was so embarrassed when I started Black Women on Broadway because we talk about theatre being family and community, but I couldn't name a Black lighting designer or sound designer. I don't know dressers who are Black. All I know is actors. That's not community, that's my clique. I need to go out and actually know the people who keep Broadway alive. Broadway is going to be Broadway, but I can do better. I can be a better artist. I can reach out to other people. I can create smaller communities so that those communities can grow and we can start communicating with each other, make a change, and show up for each other.
As long as the same three families own everything, as long as the casting directors are all white, if that doesn't change, that's okay. It's not really okay, but we know that's a long game. How long is it gonna take for us to see Black or Brown people own a Broadway theater? That takes long money. What we can do now is change how we talk to each other, how we treat each other, and how we show up for each other. I've interviewed several white artists who were like, "You know, I just stay in my place." Leave that in 2018. In 2022, we're speaking up for each other. We're leaning on each other. That's what I'm interested in for Broadway. No, they haven't changed. We got mask policies and we got hotlines to call. Yes, it's performative. Yes, it's the bare minimum. How about we let that be that, and we come over here and do for each other and do for ourselves.
Knowing that a younger Black girl is like looking to you for inspiration, is that something that you think about? Is that something that weighs on you?
It creates a spirit of mindfulness. It's affected me in different ways. Like when I was doing Hamilton, we were asked to sing the National Anthem at the Game Five championship and my first thought was, "I'm going to be on TV in front of 25 million people. I got to straighten my hair." No! I want some kinky-haired, chocolate, Black girl to see me with my puff. It changes what I wear. It changes how I walk. We don't sign up to be role models, but by default, we are going to be. I think about Goddess, this brilliant show that is being written by a chocolate Jocelyn Bioh, and to know that when little Black girls see it, it's going to be my chocolate self. Jocelyn has been intentional about color. Everybody is chocolate. It's a mindfulness thing that I see Jocelyn practicing, that I see people around me practicing. We have to be mindful of what we say. We have to be mindful of how we move, and it doesn't mean you can't be authentically you, but we're lifting as we climb. We are paving the way so that others can come behind us and it's easier. I don't want anybody in middle school right now to have to start a Broadway Advocacy Coalition. By the time you are where I am, I hope BAC doesn't exist anymore because we figured it out and did everything that we need to do. So I move, understanding that with great gifts, talents, and opportunity comes great responsibility.
What advice would you give to a younger version of yourself or a young Black girl that wants to enter theatre? The first thing that comes to mind is to keep going, but I hate that because sometimes you have to stop. Sometimes you keep going, but sometimes you need to go home and lay in the grass and eat something that brings you joy. The biggest thing that you need is community and support. I moved up here by myself in January, in the cold of winter, to one of the loneliest, coldest cities in the world. You can have a Capezio dance bag, your 16 bars, your degree, but if you don't have people in your life who you can call, who can give you $5, who can feed you, who can let you cry on their couch? You cannot do this by yourself. You need a support system, a community of people who get it, who understand, and who believe in you. At the end of the day, that's going to keep you moving on those nights when you've gotten 1,200 No's or when the jobs are not jobbing and the coins are not coining… When it's going down, you cannot pick up a monologue. The BFA is not a BFF. That piece of paper will sit on a couch or somewhere and collect dust. If you study this and you love it, you're gonna be fine. You know how to audition and you know how to show up. It's the rest of the stuff that nobody teaches us about in school. So surround yourself with people who are going to show up for you.
If you had three words to describe what this concert is going to be, what words would you choose?
Any three words? Joy. Light. Communion.
Tickets for An Evening with Amber Iman are on sale at Audible.com. Rush tickets are available via TodayTix.