Playbill presents DEATH NOTE: THE MUSICAL Panel
(Saturday, October 14, 2023 – 10:30AM – Room 409)
Following acclaimed productions in Japan and Korea and after two star-studded sold-out concert engagements in London,
DEATH NOTE: The Musical
is coming to New York Comic Con! Playbill will present a panel about the show featuring stars from the recent London concert and offer a sneak peek into the developing production. Based on the best-selling Japanese manga series (60 million copies worldwide) of the same name by Tsugumi Ohba and Takeshi Obata/Shueisha, this groundbreaking musical (Winner Best Musical, Korea Musical Awards) has a score by Frank Wildhorn (
Jekyll & Hyde, The Scarlet Pimpernel, Bonnie & Clyde
) with lyrics by Jack Murphy, book by Ivan Menchell, and orchestrations and arrangements by Jason Howland.
Panelists include:
Joaquin Pedro Valdes
("Light")
Yuzo Kajiyama
(HoriPro & Original Japanese Producer)
Ivan Menchell
(Book Writer)
Jamie Chapman Dixon
(London Concert Producer)
Playbill presents The Broadway Bard Party
(Sunday, October 15, 2023 – 10:00AM – Room 406.2)
Returning to New York Comic Con with an all-new quest in 2023, audiences will join Broadway stars as they inhabit characters, overcome conflicts, achieve exciting objectives… then go and perform their eight shows a week. As the cast plays a D&D-style one-shot, audiences will watch, journey, and laugh as the panel solves problems, entertains, and maybe even gets the "roll of their lives!"
Panelists include:
David Andrew Greener Laws
(The Twenty-Sided Tavern)
Peppermint
(Head Over Heels)
Philippe Arroyo
(& Juliet)
Rebekah Greer Melocik
(Writer, How To Dance In Ohio)
INTRODUCING A VERY SPECIAL COMIC CON AFTER DARK EVENT

LISTENING PARTY:
DEATH NOTE: The Musical / London Concept Album
(Saturday, October 14, 2023 – 9:00PM – Room 409)
Join West End stars of
DEATH NOTE: The Musical
, Joaquin Pedro Valdes ("Light") and Dean John-Wilson ("L") in a first peek at the Ghostlight Records' upcoming London Concept Album. This exciting event, hosted by Louis Hobson, promises to thrill anime and musical fans alike, with special performances, special guest Ashley Loren, and exclusive content from the critically acclaimed London premier. Win free merch with
DEATH NOTE
trivia throughout the evening and come dressed as your favorite character for a chance to win a special prize! Notetakers, get ready for an epic night!
Participants include:
Joaquin Pedro Valdes
("Light")
Ashley Loren
(Special Guest)
BROADWAY AND ARTIST PHOTOS & SIGNINGS (Booth #4117)
Are you a Broadway fan? Do we have news for you! Throughout the weekend, Playbill will be bringing some of Broadway, television, film and comic's biggest stars to the Playbill Store Booth for your chance to meet, photos and signatures!
Thursday October 12, 2023
Friday October 13, 2023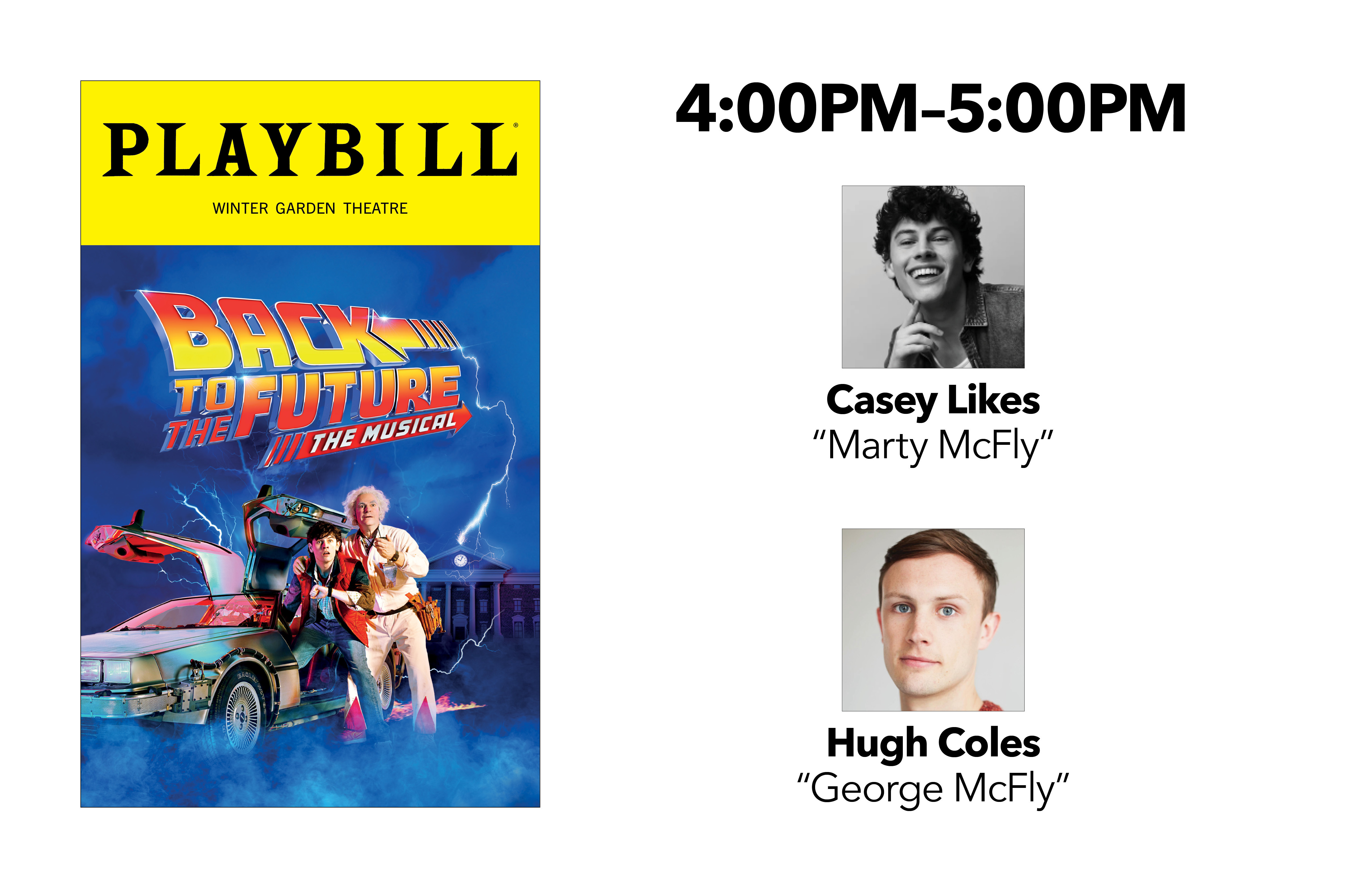 Saturday October 14, 2023
Sunday October 15, 2023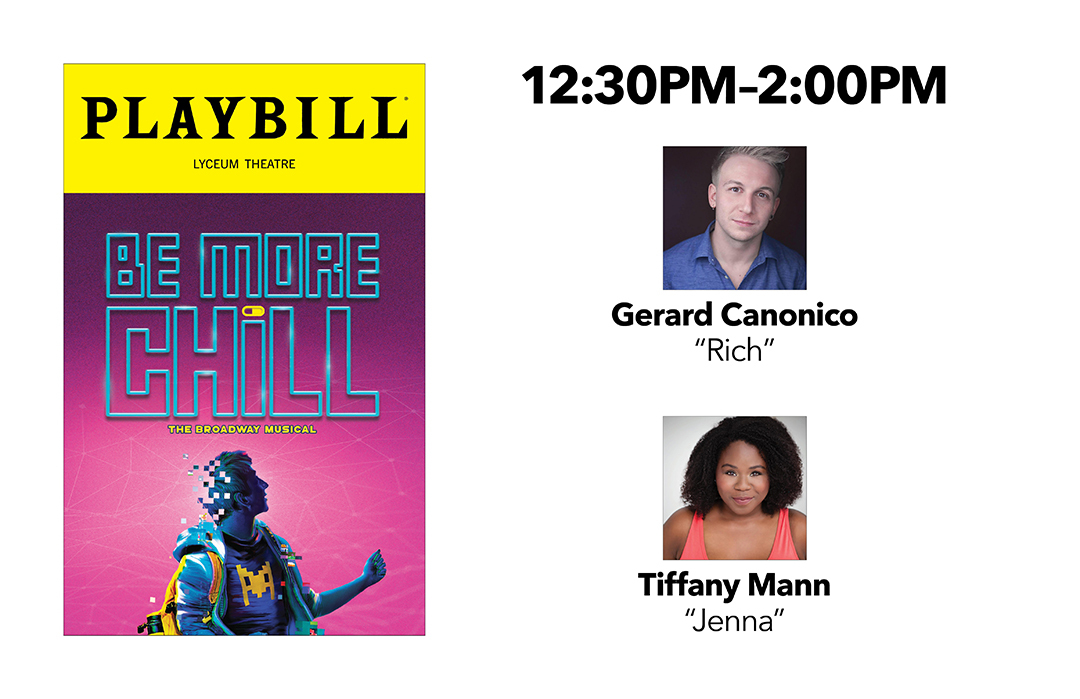 Plus: Hunter Bell and Dakota McFadzean from OTHER WORLD throughout the day.
*Panelists and photo/signing participants subject to change. Pricing for artist photographs and signings subject to pricing per the artist. Please note, all payments will be taken digitally only. A limited number of available signings and photographs are available on a first-come, first serve-basis, pending the artists time availabilities and the Playbill Store staff allowances. Queuing for your opportunity does not confirm availability. Artists, schedules, and rates subject to change.
PLAYBILL COMIC CON POP-UP STORE (Booth #4117)
Located on the Show Floor, the
Playbill Store
returns to New York Comic Con in 2023! An exciting one-stop-shop, the store will have Broadway-inspired merchandise from Playbill cover cards to game cards, magnets to mystery bags, enamel pins, Parodybill's and more.
VISIT THE NYCC QUIET ROOM PRESENTED BY THE NEW BROADWAY MUSICAL HOW TO DANCE IN OHIO
Feeling the need for a quick breather? Join us at the official
How to Dance in Ohio
quiet space to rest and relax during your Comic Con experience.
We've got comfy bean bags, sensory fidgets, a spot to
"find your zen"
, and even a chance to dive deeper into the music from the Broadway musical, which tells the story of a group of autistic young adults as they prepare for their first formal dance – a challenge that breaks open their routines and fuels their courage to connect (you might even be able to snag a discount offer for tickets for previews beginning November 15!). Just a friendly reminder: this place is all about chilling out, not socializing.
For guidance on finding the NYCC Quiet Room, drop by the Playbill booth and they'll point you in the right direction.
Don't miss out on attending the East Coast's largest pop culture convention – purchase tickets to New York Comic Con 2023 today at NewYorkComicCon.com!
WATCH THE FULL PLAYBILL PANELS FROM PAST NEW YORK COMIC CONS