Presented as part of the "Great Performances" series, Alfred Uhry's Pulitzer Prize-winning play (which was made into an Oscar-winning Best Picture) will be broadcast at 9 PM ET in the New York area. Check local listings.
Another multiple Tony winner, Boyd Gaines, plays Lansbury's son Boolie.
Watch a clip from the production here:
Here's how PBS summarizes Uhry's play: "When Daisy Werthan, a widowed, 72-year-old Jewish woman living in midcentury Atlanta, is deemed too old to drive, her son hires Hoke Colburn, an African American man, to serve as her chauffeur. What begins as a troubled and hostile pairing, soon blossoms into a profound, life-altering friendship that transcends all the societal boundaries placed between them."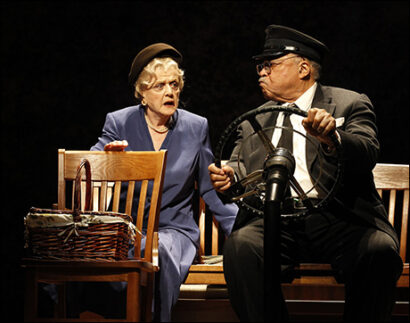 The play originated Off-Broadway in 1987 at Playwrights Horizons with Dana Ivey and Morgan Freeman. After winning the Pulitzer Prize it went on to a 1,195-performance run. In 1989, after many regional productions it was made into a film starring Freeman and Jessica Tandy, and won four Academy Awards including Best Picture and, for Tandy, Best Actress. The show finally played Broadway in 2010 in a production with James Earl Jones, Boyd Gaines and Vanessa Redgrave playing Daisy.
Lansbury has won Tony Awards for her roles in Mame, Dear World, Gypsy, Sweeney Todd and Blithe Spirit. Her most recent Broadway appearance was in The Best Man in 2012. She recently completed a U.S. tour of Blithe Spirit. She was nominated for three Oscars for her film work, and enjoyed a long run with her TV series "Murder, She Wrote."
James Earl Jones won Tony Awards for The Great White Hope and Fences. His film work includes The Great White Hope (Oscar nomination), "Dr. Strangelove" and "The Hunt for Red October." His familiar resonant voice can be heard as Darth Vader in the "Star Wars" films and Mufasa in Disney's "The Lion King."
This production of Driving Miss Daisy was directed for the stage by David Esbjornson, and directed for the screen by Peter Ots.
For further information, visit Great Performances Online.