Performer Makai Hernandez has been doing double duty for almost a month now, rehearsing one Broadway show as he performs in another. But that insane schedule came to an end this week as he played his final performance as a swing in A Beautiful Noise on Wednesday and took his first bow in the ensemble of & Juliet on Thursday.
Playbill asked Hernandez to document his two-show, back-to-back days in a photo diary, and scrolling through the photos, he's all smiles—no signs of worry or nerves at all. "I think after a year and a half of being a swing, you do a really good job of letting the stress happen inside and not let any of it show on the outside," he says. "But really, it has been an absolutely joy-filled couple of days in my life."
To prepare for the transition, for weeks, Hernandez spent days in rehearsal for & Juliet at the Stephen Sondheim Theatre starting at 10 AM. After, he'd run straight to the Broadhurst Theatre to either standby or swing into A Beautiful Noise. But thanks to each show's production management team—Bonnie Panson for A Beautiful Noise and David Lober for & Juliet—he was able to make it work. "I just trusted them. There were moments when they both knew where I was going and I didn't. It felt like there was a custody experience kind of happening, but I felt very loved and supported. But it was definitely a lot of work!" Hernandez says.
Even though Hernandez has bid goodbye to his long run as swing in A Beautiful Noise, where he went on for every track he covered, and he's officially begun his new ensemble track in & Juliet, he's not quite done yet with the long days of rehearsal in the morning and performance at night. He still has to learn the Romeo and Francois roles that he's understudying! As for when he'll get a break, Hernandez says, "I'll take a vacation in the spring or something, and lay down in a dark room and do nothing."
Scroll on, as Hernandez takes us through his last performance in A Beautiful Noise on November 1 to his first performance in & Juliet on November 2.
"After easing into the morning, I'm making sure to center myself for the big day ahead. I head to the Broadhurst Theatre, a quirky 2.5 hours too early for call time!"
"First order of business is to pack up my dressing room station (you'd be shocked how many random things you accumulate in a year!). Then I ferry from the Broadhurst on 44th through Time Square to the Stephen Sondheim on 43rd."
"OK! We're back to the Broadhurst for the matinee. As I sign in, I'm reminded of just how much my Beautiful Noise family are in my corner. I'm departing the show midweek, and our stage management team found the cutest way to x-out the remaining days on the sheet. I'm gonna miss this crew so much—aaaaahhhh!"
"Doing 'double duty' is a lot on the body! For the past few weeks, I've been finding the balance of rehearsing & Juliet during the day and then heading to A Beautiful Noise in the afternoons and evenings. Which means between the incredible choreography from both Jennifer Weber and Steven Hoggett…my body is a little beat up! So we're cramming in one last physical therapy session with my main girl Aileen."
"Before the show gets underway, I make sure to take one last quiet moment by myself out in the house. As a swing on A Beautiful Noise, a lot of my experience in this theatre, from tech to present, has taken place looking at the stage from the audience. So, finding this moment of peace was a really important bookend for me."
"Lift call. 'Yay!'"
"At 'places' for every performance of A Beautiful Noise, the 10 ensemble members (The Noise) sing the a cappella opening montage (vocally designed by the genius that is AnnMarie Milazzo). This lets us come together as a unit, find our tuning, and set an energy for the show ahead. It is such a treat to share the stage with so many talented and intelligent vocalists."
"And then the show happens! For my final performance, I'm on for Jess LeProtto, who takes the opportunity to swing out and put his dance captain hat on to note the show from the house! During our out-of-town tryout in Boston, Jess was the first full track I went on for (actually, I debuted as one of gals that I technically didn't cover, but that's a story for another day) so it felt very full circle to end things this way!"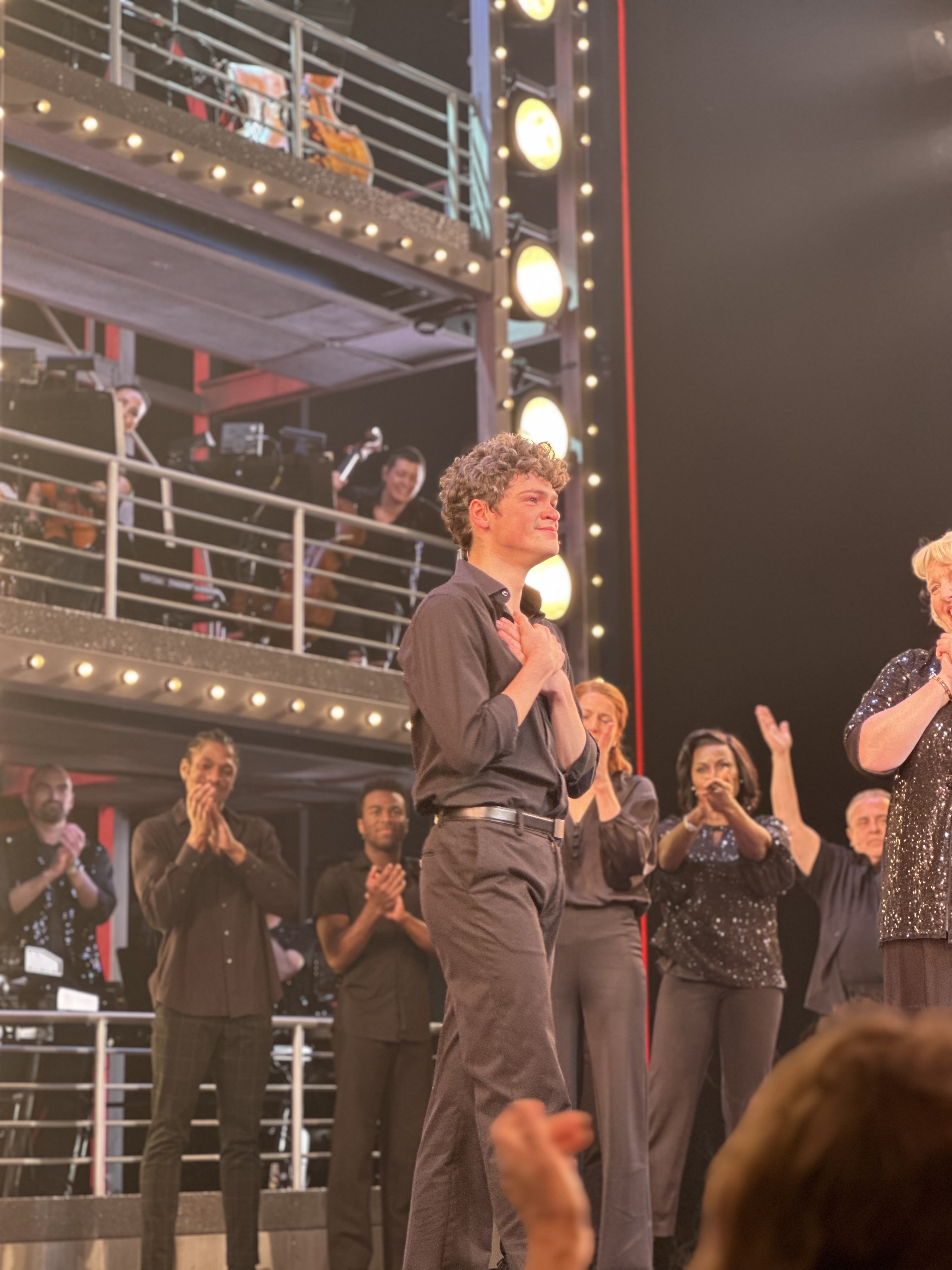 "And just like that, my time at A Beautiful Noise comes to a close. I'd been pretty successfully holding the tears back for the week leading up, but the moment I step forward for that final bow…floodgates open! This show, the people onstage, backstage, and those who created it—I barely know what to say. I grew and did things I never thought I'd be capable of. Swinging is hard and scary but so much fun! By the end of my run, I got to play every single member of the ensemble and that's the kind of chaos I love! Everyone says your Broadway debut will always hold a special place in your heart and they are oh so correct!"
"But now we wipe away the tears because there is still a lot of day ahead! Time to walk back over to the Sondheim Theatre to get one final watch of & Juliet in before I debut tomorrow! And on the way through Times Square, my swing-sister Nina Donville snaps this shot of me pointing at my own gigantic face on the ABN billboard!!! A last reminder of how this show made my dreams come true in ways I didn't think possible!"
"Now we dive into the world of & Juliet. For A Beautiful Noise, our superstar hair team (lead by Luc Verschueren) had me lean into the '70s era of our show and I got to rock a curly mop for a year and a half. But for & Juliet, we're trying something new! Here, Sara Donovan is giving me a trim and really making me feel like I'm stepping into a whole new chapter!"
"So! After watching the show last night and getting A LOT of sleep, it's now Thursday, A.K.A. the day I debut in & Juliet on Broadway!!! We start the day off by having a Zoom meeting for myself, the other two new cast members Andrew Chappelle and Phil Colgan, and our director, Luke Sheppard."
"Then, it's off to the theatre for a last crack at some of the dance numbers, as well as moving some of our larger set pieces. Here at & Juliet, the ensemble (The Players) move large scenic elements, climb the set, dance on a spinning floor, and much more—so any opportunity to get on stage with everyone before the audience arrives has been the biggest gift!"
"OK. This is it. I'm in my first (of many) stunning Paloma Young-designed crop-top costumes and ready to do this show. I can hear the crowd out there and the adrenaline is off the charts! Let's do a musical!!!"
"A couple of hours, a lot of sweat and dancing, some light brainfarts, and tons of laughs later—I have officially debuted in & Juliet. Here you can see our lovely Betsy Wolfe giving me the warmest of welcomes at the curtain call. I am the happiest of campers!"
"Post show Romeo Crew dressing room celebratory champagne is a must!"
"And there you have it! Two absolutely insane back-to-back days on Broadway, filled with more love than I can handle. None of it would've been possible without an army of people at both A Beautiful Noise and & Juliet as well as in my own personal and professional life. I am so unbelievably pumped to do this show eight times a week, so please come out and say hi! But before all that, it's right back to rehearsals tomorrow 'cause I have some understudy tracks to learn!"