*
There was only one time that Abby Mueller and her sister, Tony winner Jessie Mueller, were up for the same role — and that was years ago when they worked in Chicago, where their family of performers is from.
"It was actually for the daughter in State Fair and neither of us got it," says Abby. "And, incidentally, in that production of State Fair, they cast my dad as the dad, and neither of us got cast to play his daughter… They just didn't buy it! Isn't that hilarious?"
Although Abby's State Fair story is one for the books, nothing beats her current casting. She's about to embark on the first national tour of Beautiful: The Carole King Musical in the same role that her sister won the 2014 Tony Award for her portrayal of music icon Carole King. And, as Abby says, "I couldn't have orchestrated this if I had tried."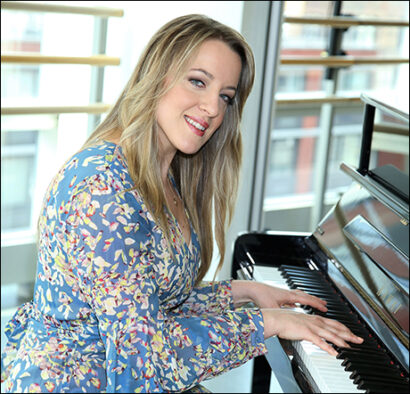 So, how'd it come to be? "It was definitely not a no-brainer and definitely not anything I sought out," she explains. "Honestly, I had an audition come up — an appointment from my agent like any other audition, and it just happened to be this. He called me, and I was like, 'No way. No. No friggin' way. Is this a joke? That's a horrible idea. Why would I even go in for that?' And, he was like, 'Don't be stupid. It's a great part.' And, I was just like, 'Uh… For a lot of reasons, it's too close, it's too weird. I don't even want to think… Why would we want to get into that?' "Then I had to really think about it. It's an amazing part. This tour's going out — I've always wanted to tour, and it was just like, 'Don't be stupid! It's an audition, first of all. It's not up to me, I don't get to choose.' Like anything else, you throw your hat in the ring, and you see how it goes from there. So, I thought, 'Okay, fine, whatever, I'll just go in, and that'll be done, and then we can put this to bed and: Won't that have been funny?' And, here I am!
"It's really a cuckoo story, but what's funny is that it's probably one of the most successful because I was…so relaxed about it and detached from the whole thing, which is usually when you do a better job, and it was one of the most successful auditions I've had… There have been other women who have played [Carole King] now, so [I] wasn't the first person after [Jessie]. I think that helped a little bit, but you know anyone who plays it is going to get compared to her because she was the first one, and she did it brilliantly."
For Jessie, the role marked a defining moment in her career.
"I never expected anything like this to happen," Jessie explained after winning the Tony Award. "I really, really didn't, and it's very humbling — it's humbling in the respect, too, that I know all of it can change on a dime because that's kind of how things can work in this business."
The same way things changed quickly for Jessie, Abby had to recently say goodbye to Broadway (she just wrapped a year-and-a-half-long run in Kinky Boots) and pack her bags to hit the road. Her first stop is Providence, RI.
"I'm very excited!" she says by phone on break from rehearsal. "I love to travel… Don't get me wrong, I love living in my own house because I've worked regionally before, and to finally be on Broadway was awesome…and have some stability, but I was getting a little itchy… We're going to a bunch of great cities. I'm from Chicago originally, and we're going to be there over the holidays."
However, with Beautiful touring dates through September 2016, it looks tough for the sisters to get to see each other's performances. Jessie's out-of-town run in Boston for Waitress (another new show she is headlining) is sold out, and then she'll be back on Broadway while Abby is traveling the States.
"We started rehearsals when she started [Waitress] previews, so I couldn't go see it, and now I'm realizing that it's an hour away. It's sold out, so that's the problem, but at least now we know that it's coming in [to Broadway]," says Abby. "But, she's been doing great… I've been checking in with her and telling her what's going on here, so it's been good. I would love to see it, but I don't know if it's going to work out at this juncture. But I don't want to have to wait another whole year! Oh, well… First world problems!" She laughs.
The two are supportive of each other. Jessie gave Abby her blessing before her Beautiful audition.
"I definitely checked with her first," Abby admits. "I was like, 'This is a funny story, but I got this audition. Do you care?' And, she [said], 'No, go ahead!' She was totally cool about it and super cool about the whole thing. I don't think either of us ever… We certainly never thought we would find ourselves in this position, but I just also feel like because it's so unique… I feel like there was, not to be cheesy, a reason that it's happening. I don't totally know why yet, but it's so farfetched."
The two shared the stage in Guys and Dolls and Shenandoah (in Guys and Dolls, Jessie was Adelaide, Abby was Sarah, and their dad was Arvide; and, in Shenandoah, Jessie was Jenny, and Abby was Anne — sisters-in-law), but have no upcoming projects in mind to do together.
"People have asked us that," Abby says. "I think someone has to write it."
(Playbill.com features manager Michael Gioia's work appears in the news, feature and video sections of Playbill.com as well as in the pages of Playbill magazine. Follow him on Twitter at @PlaybillMichael.)