When Matthew Warchus, Dennis Kelly, and Tim Minchin set out to adapt their Olivier- and Tony-winning Matilda the Musical into a film, they knew they would have to kill some of their babies. Metaphorically.
"Oh Christ, it's completely different," says composer Minchin when talking about the differences between the stage show and the film adaptation, which is currently playing on Netflix. He speaks admiringly of his colleagues Kelly and Warchus—all three artists have the rare honor of being creators who got to oversee the film adaptation of their stage property. "Usually people find it hard to truly throw out what they need to throw out in order to make the jump [to film]," says Minchin. "I don't think I could have done what Matthew and Dennis did, which is to just really reimagine it and completely change the script—just fundamentally change it, and yet you come out feeling like you've seen the same story."
Though the creators admit that movie musicals are "inherently difficult to do," in the words of the film's director Warchus (who oversaw Matilda on the West End and on Broadway), they also relished the challenge of reconceptualizing their musical anew. "We knew quite early on that we weren't just going to do the stage show," says Kelly, who wrote the book for Matilda and the film's screenplay. "It was an opportunity to do new things with it." He then adds, with excitement, "We were just able to go mental with it."
Matilda is based on the Roald Dahl novel of the same name, about a young girl who is mistreated by her parents and is sent to a school where the headmistress Miss Trunchbull abuses all the children there. But Matilda is a genius with magical telekinetic powers, which she uses (with the guidance of the kind Miss Honey) to lead her classmates to liberation and to help them stand up to their bullies. Since the book's publication in 1988, Matilda has inspired generations of fans, teaching important life lessons such as how to find your voice and use it, and that chosen family is just as valid as birth family.
The three creators of the Matilda musical walked Playbill through some of the biggest changes that their musical went through on the journey from the stage to the screen. And it's not just having a female actor (Emma Thompson) finally play the role of Miss Trunchbull.
What Was Cut


Matilda fans might notice that the following characters have smaller roles in the film adaptation: Mr. and Mrs. Wormwood. In the stage show, the Wormwoods have multiple songs and a subplot involving Mrs. Wormwood (who is a ballroom and salsa dancer). Mrs. Wormwood's song "Loud" was filmed but it ended up being scrapped. And in the book and the stage musical, Matilda has a brother Michael (originally played by Taylor Trensch on Broadway)—Michael has been cut from the film.
Minchin says those cuts to the Wormwood storyline were a way to streamline the story for film, and because their songs would register differently on film than on stage, where they regularly broke the fourth wall. "Mr. and Mrs. Wormwood's songs are social commentary," explains Minchin. "You just don't have room for that in the movie, you need to keep your narrative dry."
What Was Found

The Matilda film did allow the creators to reenvision how they present the musical numbers. For example, the song "When I Grow Up" is presented on stage as a gravity-defying ensemble song where the children sit on swings, which zip over the audience. For the film, Warchus and Kelly did a 180-degree-turn, because they knew they couldn't present that same level of awe to the viewing audience at home. So they decided to hone in on the intimacy of film—the "When I Grow Up" sequence now follows the kids of Crunchem Hall on their way home.
"I remembered about what it feels like to go home from school—when you've been through a lot at school that you can't tell your parents about, or you choose not to tell your parents about," explains Warchus. So the film follows the kids as they "journey home from school, when they would be thinking about what it'd be like to be stronger and more able. And that was a real key."
Another number in the musical that really allowed the artists to tap into the magic of film was "Quiet." In the stage show, this song is sung by Matilda as she discovers her powers for the first time—it's set in the classroom, and as the song progresses, Matilda is slowly elevated above everyone else on a stack of books. But the film allowed viewers to go into Matilda's mind, and to leave the classroom. Where they end up, you can watch in the clip below.
As Warchus explains it: "When we realized that that was possible, as opposed to something you could never even contemplate on stage, that was a really exciting moment because I knew that that was how I felt about this song and about the content of the song, of the character. And I thought that that was emotionally really appropriate to do that, as well as being visually exciting."
For Kelly, the Matilda film gives viewers "an opportunity to go into other places, but also to get smaller and get much more close to those characters."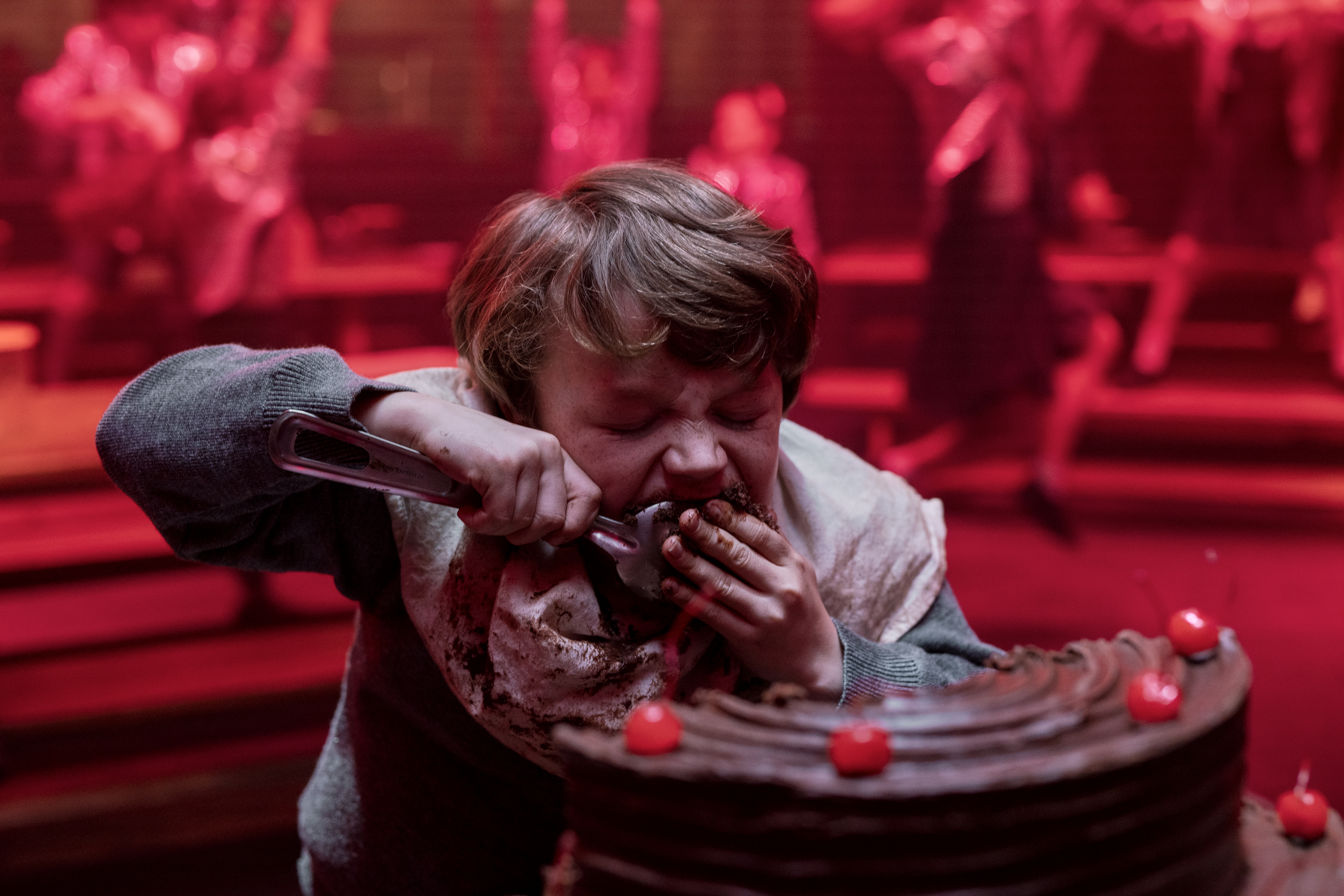 What Was Added

The film allowed Minchin to hear his songs for Matilda in an entirely new way. For one, there's a 55-piece orchestra playing his score (you don't get that on Broadway). And a few songs are sung at a different tempo on screen than they are on stage. That's because the camera can get closer to the characters as they're singing, so (with the help of closed-captioning), audiences at home can catch the lyrics, even if they're being sung quickly in order to convey the frenzied feelings of the characters singing them.
For example, "Revolting Children" is a few clicks faster, but the camera allows the tongue-twister phrases such as, "If enough of us are wrong / Wrong is right!" to come across clearly to the audience.
"All my lyrics now, you can hear every single word because with the cameras, you can see the lips and and you can keep sound mixing until you're happy," explains Minchin happily. "You can't do that in live theatre."
Though Minchin does quip with a chuckle: "I know a lot of Americans can't understand what the fuck they're saying anyway. But that's alright, they'll get there in the end."
Speaking of "Revolting Children," which is the show's 11 o'clock number, the finale of Matilda was also changed for the film. On stage, the audience is invited to join in as the cast sings the reprise for "When I Grow Up" and "Naughty." But on film, you cannot interact with the audience. So Minchin wrote a new song to wind down the show, the ballad "Still Holding My Hand," a duet between Miss Honey (Lashana Lynch) and Matilda (Alisha Weir).
The Miss Trunchbulls of the world might think it's a ploy to get an Oscar for Best Original Song. But Minchin was actually hesitant to write the new closer. Then when he started putting piano notes to paper, he realized that he had written a ballad that tied into the other songs in the show—for instance, the line in "Still Holding My Hand" that goes "quietly taking your stand" harkens back to Matilda's "Quiet." The new song ends the musical by centering on the profound connection between Matilda and Miss Honey—who are both victims of childhood abuse and who, in meeting each other, are able to heal.
"Miss Honey and Matilda save each other," Minchin says. And it gets to the wider themes of the musical, which is the importance of collective action in the overwhelming face of oppression—especially when you're a small person going up against a Goliath. "It's about how we can all help each other. In the end, Matilda inspires a revolution. And the kids all stand up on the desk and do their big, 'I am Spartacus' moment. So there's that sense of collectivism, of having to pull together, which obviously in this era is very important."
It is that empowering theme, told through the eyes of the smallest members of society, that has kept Matilda's creators working on the musical in all its different forms over the past 14 years. "It's a kind of parable," says Warchus. "It's a genuinely meaty, joyful story … We then put all of that love and passion into the stage show. And then we got this opportunity to make a film, which is a huge undertaking, but was driven by love and passion."

See composer Tim Minchin perform his new song from Matilda the Musical.