Harold Prince, who topped his significant achievements as a producer in the 1950s and 1960s to become one of the most prominent stage directors of the 20th century, ultimately taking home 21 Tony Awards, died July 31. He was 91.
Mr. Prince, known as Hal to all in the theatre trade, worked well into his ninth decade. He remains represented on Broadway with his long-running production of The Phantom of the Opera. That Andrew Lloyd Webber musical is probably the Prince credit best known to the general theatregoing public. But to aficionados and historians, his singular artistic achievement was the groundbreaking string of Stephen Sondheim musicals he staged in the 1970s. (The future collaborators first met on the opening night of South Pacific.) Their shows—Company, Follies, A Little Night Music, Pacific Overtures, and Sweeney Todd—are widely considered to be among the most significant landmarks of musical theatre, shows that changed the face of the art form.
Mr. Prince and Sondheim broke after the disastrous reception of the 1981 musical Merrily We Roll Along, which ended their artistic winning streak. They did not work together again until the 2003 Chicago and Washington, D.C., productions of Sondheim's Bounce, a show that never reached Broadway (but did eventually find a home Off-Broadway, as Road Show, directed by John Doyle).
Mr. Prince's producing credits during the first half of his career would have been enough to earn him a place in theatre history. Like his contemporaries Emanuel Azenberg and Bernard Gersten, he began his working life as a stage manager, manning shows like Call Me Madam and Wonderful Town. In 1954, at the age of 26, he produced his first Broadway musical, teaming with Frederick Brisson and Robert E. Griffith: The Pajama Game, written by the new team of Jerry Ross and Richard Adler. A romantic comedy set in a pajama factory, where the lady union boss and the factory manager fall in love, it was a hit and won the Tony Award for Best Musical—Mr. Prince's first such award. He would win many more.
He stuck with Adler and Ross for Damn Yankees, which became as big a smash as Pajama Game, winning him another Tony. In 1957, he scored a lesser hit, but made a historical mark, with West Side Story, Leonard Bernstein's poetic treatment of gang and race warfare in Manhattan.
He continued to rack up hits: Fiorello!: Take Her, She's Mine; Tenderloin; and A Funny Thing Happened on the Way to the Forum. The biggest of all was Jerry Bock and Sheldon Harnick's Fiddler on the Roof, which opened in 1964 and ran for more than 3,000 performances. The smash provided Mr. Prince with financial security and allowed him to experiment over the next years, both as a producer and a director. He was given the opportunity to direct serious plays by T. Edward Hambleton, the artistic director of the Phoenix Theatre. He later formed the New Phoenix Repertory Company with Hambleton in 1972.
As a producer, Mr. Prince was known for his keen financial mind: "I am known as a man who is tight with a buck," he once said—and for being on hand. While a production was being put together, he could be found in the rehearsal hall and the theatre. Unlike David Merrick, who would produce several shows at once, Mr. Prince would attack one show at a time. According to Stuart W. Little's book The Playmakers, he would spend six months deciding on a project and a year getting it on the stage. His care with money and management led to an unusual percentage of successes. By 1969, his 16 produced shows had shown a combined profit of $13 million.
With Jerry Bock and Sheldon Harnick's She Loves Me in 1963, Mr. Prince made the leap to directing, piloting the simple love story (based on the Miklos Laszlo play Parfumerie) into a modest hit and earning his first Tony nomination as a director. With 1966's Cabaret, he proved She Loves Me had not been a fluke. The musical based on the Berlin stories of Christopher Isherwood (and the play I Am a Camera) proved to be one of the most durable musicals of all time.
His career directing work by composer-lyricist Sondheim began when he suggested to playwright George Furth that he turn a series of comic sketches about modern marriage into a musical. Sondheim was asked to write the songs, and Prince would direct. The episodic, conceptual musical centered on Bobby, an unmarried bachelor whose best friends are all married couples of various levels of happiness and sanity. The director brought in set designer Boris Aronson, who created an abstract chrome and glass assemblage of compartments that helped to define Company's message, and a young Michael Bennett to do the choreography.
Mr. Prince would play an equally pivotal role in the evolution of Sondheim and James Goldman's Follies, which would become, under the director's guidance, an ambitious examination of the abandonment of youth's ideals through the prism of the death of a bygone musical entertainment. Set in an abandoned theatre where a reunion of Ziegfeld-like artists have gathered, the show operated on several levels, using both contemporary and traditional musical styles as well as a lavish costume and scenic palette.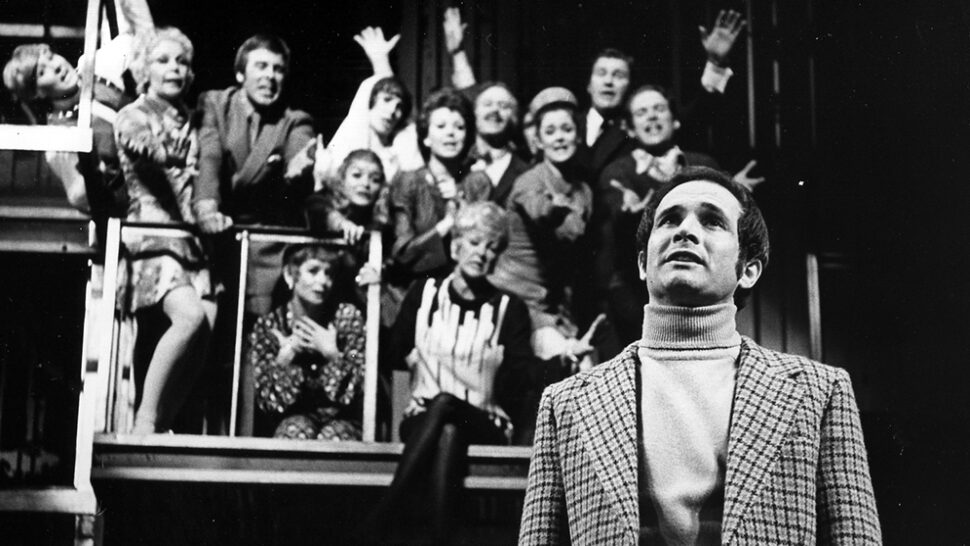 In 1973, Mr. Prince and Sondheim teamed on A Little Night Music, a chamber musical dramatization of the Ingmar Bergman film Smiles of a Summer Night. Pacific Overtures followed in 1976, and Prince's production borrowed heavily from Eastern artistic modes. The duo's greatest collaboration arguably came with 1979's Sweeney Todd, a churning, operatic melodrama based on a penny-dreadful story about a murderous, vengeful barber and his meat-pie-making mistress and accomplice. Mr. Prince again elicited a striking set design, this time from Eugene Lee.
The same year as Sweeney Todd, he directed his first Andrew Lloyd Webber show: Evita, a histrionic, romantic telling of the life of Argentine first lady Eva Perón. His highly stylized production contained many iconic images still well remembered by theatre audiences.
Sondheim and Mr. Prince's next project, Merrily We Roll Along, provoked a rupture in the partnership. Based on a backwards-running comedy by George S. Kaufman and Moss Hart about the disillusionment of three artist friends, Mr. Prince struggled to find the appropriate concept for the piece. He cast it with college-age kids, whom he clothed in sweatshirts emblazoned with the names of their characters. He also chose to open the show on Broadway rather than out of town, allowing the newspapers to follow the venture's travails. Critics hated the show, and it closed in 16 performances. "I had a lot of guilt about that show, because I couldn't envision it," he later said. "And they were all kids and I loved them a lot. My daughter was in it. She was the youngest in the company. I felt like I had let them down."
Soon after, Mr. Prince told Sondheim he felt their collaboration had "run out of steam." They didn't work together again for more than 20 years.
In the late 1980s, he stopped producing to concentrate solely on directing. "I stopped for a very good reason," he said. "I stopped on the grounds that I was sick of reading 'Producer-Comma-Director.' I wanted people to know I'm a director. It somehow seemed I was muddying the waters some."
It was T. Edward Hambleton of the Phoenix Theater who first gave Prince a chance to direct. The show was a New York State Council of the Arts touring company of Thornton Wilder's The Matchmaker. "I grabbed it, sent it off around the state with Sada Thompson and Sylvia Sidney."
Restless and quick-witted, Mr. Prince was known for his energy, his enthusiasm, and for his rapid style of talk. "He's going like wildfire all the time," said actor and Sweeney Todd alum George Hearn. "It's exciting to be around that mind." In rehearsal, he could be forceful to the point of brutality. Playwright Terrence McNally, who wrote the libretto of the Prince-directed Kiss of the Spider Woman, once said, "Hal only negotiates through force."
Prince of Broadway
, co-directed with Susan Stroman, which looked back at his decades of hits even as its young cast looked forward to the future of the art form that Prince had such a hand in shaping.
He is survived by his wife Judy Chaplin, daughter of Hollywood composer and producer Saul Chaplin, and daughter Daisy Prince and son Charles Prince, as well as grandchildren Phoebe, Lucy, and Felix. As per his wishes, there will be no funeral. A celebration of his life with the theatrical community will be held this fall.
Flip through the shows he brought to Broadway below: