Lauren Molina
, the cello-playing Johanna in the 2005 Broadway revival of
Sweeney Todd
, is currently offering a standout performance in the often-hysterical musical comedy
Desperate Measures
, which recently reopened at Off-Broadway's New World Stages following a Drama Desk Award-winning engagement at the York Theatre Company. Molina, who is also part of the popular duo The Skivvies, plays Bella Rose, and her performance, nominated for an Outer Critics Circle Award, is a vocal and comedic delight. You will marvel at the humor she finds in the David Friedman-Peter Kellogg production, which won the Outer Critics Circle for Best New Off-Broadway Musical.
About Molina, composer Friedman had this to say to Playbill, "Lauren is a world-class singer, a fearless actress and comedienne, and a consummate professional who is a joy to work with. In this show, her performance reminds me of Lucille Ball. Television producers take note. She should have her own comedy series."
Molina recently penned a list of her own most memorable nights in the theatre; her responses follow.

Sweeney Todd Broadway Closing Night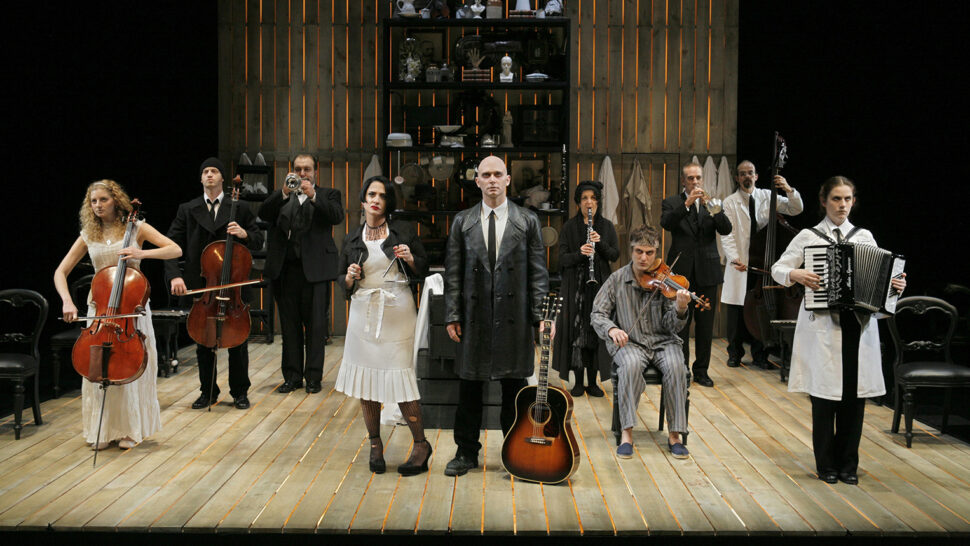 The audience was electric. You could feel the theatre fandom and Sondheim love in the air. It was an incredible experience to make my debut in such a wildly inventive interpretation, with such heavy hitters as Patti LuPone and Michael Cerveris. At the top of the show, when the curtain went up, there was a piercing wall of sound, cheers, screams, and whistles that shook me to my core. I remember it being so loud, my ears hurt. It was so emotional, I began to cry.
When we began rehearsals for Sweeney, Patti said, "Lauren, it doesn't get any better than this, so it's all downhill from here."
Working with Patti LuPone
Speaking of Patti LuPone, she can be intimidating to say the least when you're first working with her. A few months into the run of Sweeney Todd, her dresser came up to me backstage at intermission and said, "Patti would like to see you in her dressing room." I was nervous that I had done something wrong to upset her. After the show, I went up to her dressing room. She called me in and said, "Lauren! Last night I performed in these Manolo Blahniks, and they are too small and killed my feet. I thought they might fit you. Want them?" Without even checking the size or waiting a beat, I exclaimed, "Yeeees!"
Rock of Ages

During
Rock of Ages
, I started the mockumentary
Rock of Ages Productions
with my best friends Wes Taylor and Mitch Jarvis. We didn't realize that the first sketch we filmed, called "Losing Will And Nova"—about losing two cast members during the transfer from Off-Broadway to Broadway—would turn into a full-on web series, involving backstage antics with celebrities and hilarious plot twists. It changed my life, I found my creative collaborators, and we started a trend with filming backstage antics on Broadway. I couldn't name which episode was my favorite, but the "Haunting of the Brooks Atkinson" sticks out as especially funny to me.
Candide at the Goodman, Shakespeare, and Huntington


When I played Cunegonde in Mary Zimmerman's adaptation of
Candide
at The Goodman Theatre, Shakespeare Theatre Company in D.C., and Huntington, I made my entrance for "Glitter and Be Gay" in a bathtub from a lift in a trap from under the stage and rose up to the stage. The tub was filled with bubbles. I wore nothing but a nude thong and bubbles on my boobs. I had to run to make the scene change, strip off my clothes, then have two stagehands throw bubbles on me. It was thrilling, freeing, and exhilarating. I then sang the song while being dressed in full period costume by the old woman and servants. The famous "ha ha" section was timed with me being pulled and tied into a corset as I reacted to the pain. The choreography of the dressing was unforgettable. The final moment of the song was the full reveal in a stunning dress and jewels.
Nobody Loves You
Wardrobe malfunction: When doing Nobody Loves You by Itamar Moses and Gaby Alter, a reality dating show parody, I played Megan. She was a naughty, sexy girl whose aim was to tempt the good Christian boy of the house into the hot tub. During the song, I took off my jean shorts to reveal panties underneath. In previews, the director Michelle Tattenbaum thought that my panties were too skimpy, so I was given a fuller coverage panty. The night I tried the full panty, the friction of the panty gripped the jean shorts, and everything came down at once. I mooned the audience unintentionally. It was hilarious and the audience got more than they paid for.