The York Theatre Company will present a one-night only concert version of a newly reimagined version of the Broadway musical I Do! I Do! next month.
Kicking off an 18-month celebration of The York's 50th anniversary, the Tom Jones and Harvey Schmidt musical, based on the play The Fourposter, will be seen April 8 at the York Theatre Company at Saint Peter's.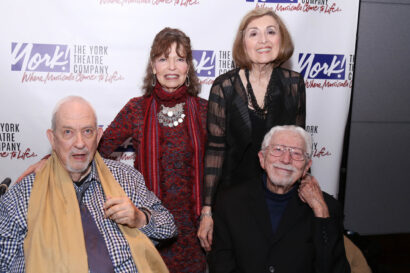 Directed by David Glenn Armstrong with music direction by David Hancock Turner, the cast of five couples consists of Samantha Bruce (The Fantasticks), Lewis Cleale (The Book of Mormon ), Daniel J. Edwards (Anything Goes), Nancy Ford (I'm Getting My Act Together and Taking It on the Road), Gerry McIntyre (Once On This Island), Janet Metz (Joseph and the Amazing Technicolor Dreamcoat), Brad Oscar (Something Rotten!), Peter Saide (York's Desperate Measures), Lynne Wintersteller (Closer Than Ever), and lyricist-librettist Jones (The Fantasticks).
LOOKING TO CAST OR BE CAST IN A SHOW YOURSELF? TRY PLAYBILL JOBS NOW
The reimagined version, created by Jones, will feature two pianos and five couples, who will portray the main characters as they explore highlights of 50 years of marriage: "The Wedding Night," "The Fight," "New Year's Eve," "Thousands of Flowers," and "The Golden Anniversary."
Written as a star vehicle for theatre legends Mary Martin and Robert Preston, the original Broadway production ran more than a year and received seven Tony nominations.
The Gala Reception is scheduled to begin at 6:30 PM with a gourmet catered "Rehearsal Dinner" at The York Theatre, followed by the "Wedding Ceremony" concert performance of I Do! I Do! at 8 PM, and a dessert and wine "Wedding Reception" immediately following.
For tickets, visit YorkTheatre.org.