*
Orchestrator, conductor, music director and vocal coach Mary-Mitchell Campbell has worked on the Broadway productions of Big Fish, The Addams Family and Company, for which she received the Drama Desk for Outstanding Orchestrations.
Campbell founded the nonprofit ASTEP (Artists Striving to End Poverty) alongside a group of Juilliard students — where she has served on the faculty — to transform the lives of youth through art.
She has also worked on New York productions of Next to Normal, Sweeney Todd, Beauty and the Beast, The Scarlet Pimpernel, The Prince and the Pauper, First Lady Suite, The World of Nick Adams, Our Town, Go Go Beach, The Screams of Kitty Genovese, The Audience and Sweet Charity at Lincoln Center.
Campbell has toured with Tony Award winner Kristin Chenoweth and also worked alongside Meryl Streep, Jack Nicholson, Tom Hanks, Julia Roberts, Ben Vereen, Rob Williams, Bebe Neuwirth, Eartha Kit and Anne Reinking. Her first solo album "Songs I Grew Up On" was released in late 2006.
We speak with her about breaking into the industry as a music director, what a music director looks for in a performer, developing a relationship with the performer and more.
For a performer, what is most important to a music director? Vocal technique, range?
Mary-Mitchell Campbell: The most important thing for me as a music director when you are auditioning is that you have the skills that are specific to the show you are auditioning for. Vocal technique, range and ability to sing styles all come into the equation.
How much material should be in your book? Is it beneficial to have a very wide range of audition songs, or should actors just focus on a few things that suit them best?
MMC: I think this varies from person to person. Similar to a wardrobe, some people do best with having a few outfits they love, and others like to have many options that match their moods. At the minimum, I would say a performer should have four-five songs that are perfect for them. Material that fits them like a glove and can be sung even when you aren't feeling 100 percent!
Can you speak a bit about the importance of vocal styling and straight-toning? Broadway encompasses a wide range of styles. Should you be fluent in all of these styles, or work toward your strengths/niche?
MMC: In today's Broadway, it certainly doesn't hurt to be as versatile as possible so that you are more marketable for different kinds of shows. But you also need to be true to who you are and what you do best. If you are a legit soprano, and singing pop isn't really your thing, then I would suggest continuing to work on singing in different styles, but know that your niche is most likely going to be in the legit soprano world.
How do you feel about vocal embellishment and riffing during audition songs? Where do you draw the line when trying to show your skills, yet not overdo it?
MMC: I'm a big fan of only riffing when it makes musical sense, which means only on material that stylistically allows for that kind of interpretation. Also, if you have the luxury of doing the whole song, or most of the song, then don't start the song with riffing. Riffing should be an embellishment of the song, but if you haven't sung the original melody yet you haven't given us the theme to embellish from!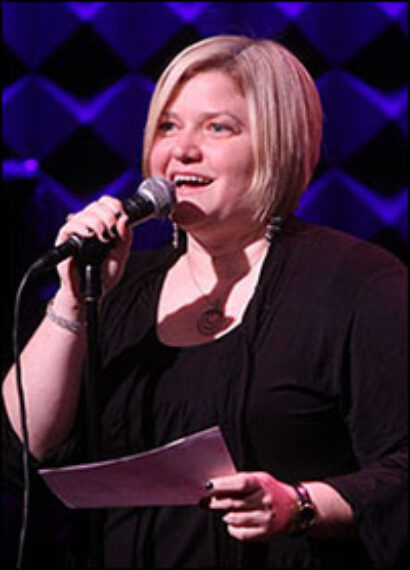 Also, when an audition posting says to "show range," where is the line between finding a song that is rangy, yet appropriate? Do we go for the high note, or for the song that suits us best — both in story telling and style?
MMC: This is hard to answer because every situation is different, but it helps to have songs in your repertoire that show some kind of vocal range. Most importantly, I think you need to sing songs you love. It really makes a difference if you are enjoying what you are singing. Beyond that, you can make a good argument for going for a high note, or for doing something that has a great story. In a perfect world, you would find material that accomplishes all of those things.
Talk about overdone songs — one of the most-asked questions. Is it still okay to go into the audition with a popular song, even if you perform it well?
MMC: I believe you should sing what you love and you do well, even if it is a song that is done often. Sometimes singing something obscure can backfire in that we spend much of your audition time trying to understand what the material is you are singing and not as focused on how you are performing.
Depending on the audition, is it best to ask the creative team what they want to hear? Do you run a risk by picking the song yourself?
MMC: It is definitely okay if you want to offer a choice between two different songs. But if the response is, "Sing what you want to sing," then you should make a choice quickly.
Can you speak about etiquette when approaching the accompanist, establishing tempo and being clear on your cuts?
MMC: Being an audition pianist is a tough job, so it is in your best interest to set them up to win in every way possible. This means giving them clear music that is hard to misunderstand. Practice setting tempos with people, and realize that when you are nervous, sometimes you set things at the wrong tempo. It's okay to stop early in the song and correct it.
For aspiring Broadway music directors and conductors, what is the best way to break into the industry?
MMC: Every person I know has had a different path, so I don't believe there is a "best way" to break into the industry. I think making sure you are always working on your skills and continuing to learn is important. Networking is very helpful since it is hard to get "auditions" for jobs as a music director. For aspiring Broadway music directors and conductors, is being an audition accompanist a good way to network and establish relationships with professionals in the industry, or can you become pigeonholed?
MMC: Yes, and yes. It is a great way to network and establish relationships, and you can definitely become pigeonholed.
Talk about the relationship between the conductor and the actor during show time. What have you found to be the best ways to connect with your "scene partner," so to speak?
MMC: I love actors, and I love to know more of their intentions behind songs… It definitely influences the musical structure of a piece. I enjoy doing lyric analysis and talking about what is going on in the character and making the music match those intentions.
Talk about the networking aspect of the industry. Do you float around the concert scene to try and make connections as a music director?
MMC: Anytime you can meet people who work in the industry and network that is helpful. I am sure there are many opportunities to get to know people, and working on/attending benefits and concerts is a great way.
Speaking of the concert scene, how do you go about creating a set list? What's the best way to shape an evening like that?
MMC: I usually look at the pacing of an evening… What is the ratio of ballads and uptempos? Thematic sections are often nice. The most difficult thing is figuring out an opening — how to set the tone of a concert.
When you find yourself getting sick, or in danger of losing your voice — and still have to audition or perform — what are the best ways to prepare and to take care of your voice?
MMC: It is important that you get to know how your voice works in many situations, so you can be prepared. Some people have vocal cords that are made of steel, and they can sing while sick or go out and drink late into the evening with no repercussions. Others have vocal cords that are much more fragile and need to be much more careful about how much sleep they get, what they drink, etc. It is good to know where you fall on that spectrum and have plans in place for when you start to feel like you are getting sick.
What are some common mistakes you see performers make that can strain or damage the voice?
MMC: Pushing in rehearsals and always singing full out doesn't work for everyone. When you are given permission to "mark," make sure you know how to do that in a healthy way and use those opportunities to be mindful of vocal health. (Playbill.com staff writer Michael Gioia's work appears in the news, feature and video sections of Playbill.com as well as in the pages of Playbill magazine. Follow him on Twitter at @PlaybillMichael.)