These plays and musicals keep it simple when it comes to casting. These so-called "two-handers" feature just two actors. Though this is far from a comprehensive list, these ten should offer a base knowledge of these oft-produced shows.
1. Topdog/Underdog by Suzan-Lori Parks (play)
This Pulitzer-winning work follows the lives of two African-American brothers, Lincoln and Booth, who are living together again after the eldest is kicked out of his house by his wife. The pair talk about their troubled past as they play Three-card Monte, culminating in a reenactment of the deadly meeting of their political namesakes.
The work premiered Off-Broadway at the Public Theater in 2001, in a production directed by George C. Wolfe and starring Don Cheadle and Jeffrey Wright. The production moved to Broadway the following year with Mos Def taking over for Cheadle. Wright received a 2002 Tony nomination for his performance, and the work was nominated for Best Play. Parks became the first Black woman to win the Pulitzer Prize for Drama when it was awarded to Topdog/Underdog in 2002.

2. Venus in Fur by David Ives (play)
This meta two-hander features a play-within-a-play, based on Leopold Sacher-Masoch's novel Venus in Furs. An actor is auditioning for the play's writer-director, but as the two work together, the audition begins to take on some of the same shifts in power that occur in the novel.
Venus in Fur premiered at Off-Broadway's Classic Stage Company in 2010, starring Nina Arianda and Wes Bentley. Following a successful and extended run, the play transferred to Broadway's Samuel J. Friedman with Arianda reprising her role opposite Hugh Dancy, which then transferred to the Lyceum in February 2012. Arianda went on to win a Tony Award for her performance in 2012. The same year, director Roman Polanski adapted the play into a French film.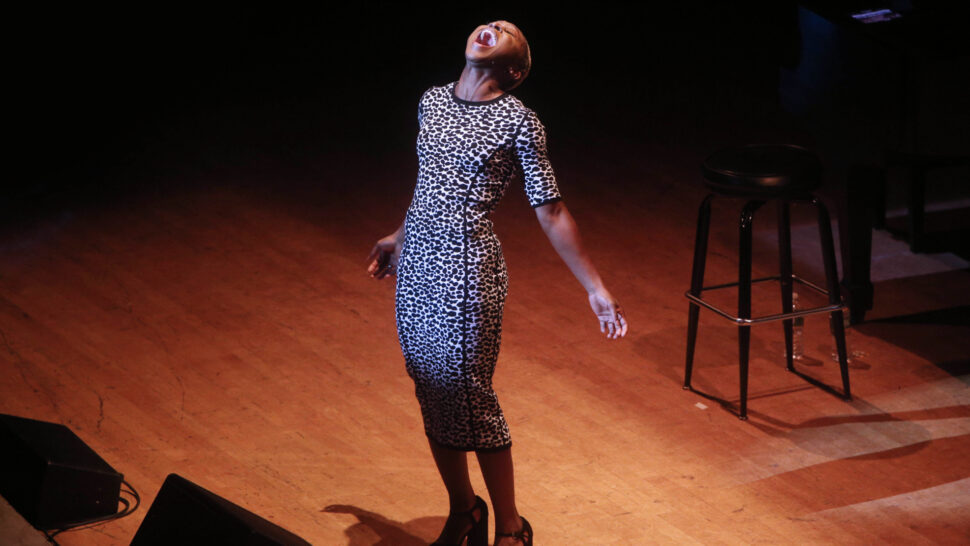 3. The Last 5 Years by Jason Robert Brown (musical)
Though the show is a love story, The Last Five Years delivers a fascinating twist by telling the story of a marriage that ends in divorce in two separate chronologies as well. Jamie, a writer whose star is on the rise, goes through his story in chronological order; Cathy, a struggling actor, presents her perspective in the reverse, beginning with the couple's divorce and ending with their first date. The two characters alternate solo songs throughout, with a brief duet at the plot's mid-way point—their marriage—when the timelines overlap.
After a world premiere at Skokie, Illinois' Northlight Theatre in 2001, The Last Five Years played Off-Broadway starring Norbert Leo Butz and Sherie Rene Scott in 2002. Though the show enjoyed only a brief run in New York, it became a favorite of colleges and regional theatres worldwide. An Off-Broadway revival starring Adam Kantor and Betsy Wolfe was mounted at Second Stage in 2013, and, in 2014, a film adaptation starring Anna Kendrick and Jeremy Jordan was released.
4. Lady Day at Emerson's Bar and Grill by Tom Stoltz (play)
This play, which imagines one of jazz icon Billie Holliday's final concerts, defies typical genres. Though considered a play, the work features 16 songs, all performed diagetically. It's also nearly a solo work for the actor playing Holliday, but the singer's music director also emerges as a scene partner.
Lady Day premiered at Atlanta's Alliance Theatre in 1986 with Reenie Upchurch starring as Holiday, and played Off-Broadway's Vineyard Theatre the same year starring Lonette Mckee. A 2014 Broadway production won Audra McDonald her record-breaking sixth Tony Award, also giving her the distinction of being the only person to win the honor in all four performance categories.
5. Red by John Logan (play)
Alfred Molina and Eddie Redmayne starred as modern artist Mark Rothko and his fictitious assistant Ken in the original production of this two-hander. As Rothko works on a group of murals for a restaurant, he and his assistant discuss art theory and the pros and cons of commercial endeavors as an artist. The play premiered at London's Donmar Warehouse in 2009 and transferred to Broadway with its original cast the following year, going on to win Best Play and Best Performance by a Featured Actor in a Play (for Redmayne) at the 2010 Tony Awards. A recent West End revival starring Molina opposite Alfred Enoch (How To Get Away With Murder) was filmed and will be screened in the U.K. and North American in November.
Read: WEST END'S RED WILL BE SCREENED IN MOVIE THEATRES
6. John and Jen with music by Andrew Lippa, lyrics by Tom Greenwald, and book by Lippa and Greenwald (musical)
This two-hander actually depicts three characters. The show centers on the relationship between Jen and her brother John, but after he is killed in Vietnam, the second act focuses on Jen and her son, who she also names John for her late brother. Premiering at Connecticut's Goodspeed Opera House in 1993, which preceded an Off-Broadway run in 1995, the show originally starred Carolee Carmello as Jen and James Ludwig as both Johns. A 2015 Off-Broadway revival presented by Keen Company in honor of the work's 20th anniversary starred Kate Baldwin and Conor Ryan.
7. Frankie and Johnny in the Clare de Lune by Terrence McNally (play)
Sex and insecurity is on display in this play, which centers on a middle-aged pair of coworkers who have ended their first date in bed. What starts as physical desire appears to maybe have the possibility for more, but only if they can both reveal themselves to eachother.
The 1987 original Off-Broadway production starred Kathy Bates and F. Murray Abraham, with the former winning an Obie Award for her performance in 1988. The work made its Broadway premiere in 2019 with a new production starring Audra McDonald and Michael Shannon.
8. Constellations by Nick Payne (play)
This romantic two-hander follows the relationship of Roland, a beekeeper, and Marianne, a cosmologist, and like The Last Five Years, features a twist. As the two lovers discuss string theory and the notion of multiple universes existing simultaneously, the play presents repeating brief scenes from their conversations, often with slightly different outcomes to actualize those potential parallel universes.
The work premiered at the Royal Court Theatre in 2012 starring Rafe Spall and Sally Hawkins, later transferring to the West End. Manhattan Theatre Club brought Constellations to Broadway in 2015 in a production starring Jake Gyllenhaal and Ruth Wilson, who received a 2015 Tony Award nomination for Best Actress in a Play.
9. I Do! I Do!, music by Harvey Schmidt, book and lyrics by Tom Jones (musical)
Based on the Jan de Hartog play The Fourposter, I Do! I Do! follows the ups and downs of a 50-year marriage—and it plays out entirely in the couple's bedroom. The 1966 original Broadway production starred Mary Martin opposite Robert Preston, who won his second Best Actor in a Musical Tony Award for his performance. Relatively low production costs made this musical popular with touring and summer stock companies, leading to a string of productions starring such Broadway notables as Carol Lawrence and Gordon MacRae, Carol Burnett and Rock Hudson, Lee Remick and Hal Linden, and, in an 1996 Off-Broadway revival, Karen Ziemba and David Garrison.
10. The Mountaintop by Katori Hall (play)
Named for the speech given by Martin Luther King, Jr. in Memphis, Tennessee the night before he was assassinated, this play imagines King's final night at the Lorraine Motel. After ordering room service, he strikes up a conversation with Camae, a hotel maid, but as their conversation gets deeper, it becomes clear that Camae is more than she appears.
Hall's play debuted in 2009 at London's Theatre503, later moving to the West End in a production starring David Harewood and Lorraine Burroughs. The work made its Broadway premiere in 2011 starring Samuel L. Jackson and Angela Bassett. It went on to appear at a number of prominent regional theatres, including Boston's Central Square Theater, the Alley Theatre in Houston, and Baltimore's Center Stage.
11. Greater Tuna by Jaston Williams, Joe Sears, and Ed Howard (play)
Though this play uses only two actors, the characters depicted number well over 20. A love letter to Southern small-town life, Greater Tuna traditionally features two men playing the numerous residents of fictional town Tuna, Texas. After a premiere in Austin, Texas, Greater Tuna played Off-Broadway in 1982 and quickly became a favorite nationwide. Co-writers and original stars Sears and Williams starred in tours of Greater Tuna (along with its sequels A Tuna Christmas, Red, White, and Tuna, and Tuna Does Vegas) that continued for 26 years. A performance in Fort Worth, Texas starring Sears and Williams was filmed and is available on DVD.
12. The Story of My Life, music and lyrics by Neil Bartram and book by Brian Hill (musical)
This musical follows two lifelong friends from early childhood to middle age. The first full production of the musical took place in 2008 at Goodspeed Musicals in Connecticut, and starred Will Chase as Thomas Weaver and Malcolm Gets as Alvin Kelby. Both Chase and Gets reprised their roles when the show transferred to Broadway the next year, but the production was famously short-lived; The Story of My Life closed on Broadway after 19 previews and just five performances.
13. Yellowman by Dael Orlandersmith (play)
Centered on the relationship between Eugene, a light-skinned Black man, and Alma, a dark-skinned woman, Yellowman examines how skin color can profoundly affect ones vantage points on race and class. Though performed with just two actors, the work presents a number of characters, including Eugene and Alma's family and friends.
Yellomwan was commissioned by New Jersey's McCarter Theatre, but premiered Off-Broadway at Manhattan Theatre Club in 2002 starring Orlandersmith herself with Howard W. Overshown. The work went on to receive productions at such regional theatres as the McCarter Theatre, Philadelphia's Wilma Theatre, Connecticut's Long Wharf Theatre, and Seattle's ACT Theatre. Yellowman was also a 2002 finalist for the Pultizer Prize for Drama.
14. Love Letters, by A.R. Gurney (play)
Perhaps the most famous of the two-hander plays, Love Letters tells the story of two childhood friends through their lifelong written correspondence. The play follows both as they navigate a continued romantic connection despite being married to other people and, ultimately, a tragic end. Love Letters is traditionally produced with the ultimate simplicity, featuring two actors seated at a table on a bare stage reading their letters from notebooks. It's typically produced with an oft-changing cast.
The original 1989 Off-Broadway production featured actors such as Kathleen Turner, John Rubinstein, Barbara Barrie, Philip Bosco, Victor Garber, Julie Harris, George Grizzard, George Hear, Richard Kiley, Dana Ivey, William Hurt, Marsha Mason, Christopher Reeve, Holland Taylor, George Segal, Christopher Walken, Joan Van Ark, Treat Williams, Frances Sternhagen, Meredith Baxter, and more during its 64-performance run. The Broadway production later the same year originally starred Colleen Dewhurst, Jason Robards, with actors like Lynn Redgrave, Stockard Channing, John Rubinstein, Jane Curtin, Polly Bergen, Elizabeth McGovern, Swoosie Kurtz, Elaine Stritch, Elizabeth Montgomery, and others in replacement cats. Following numerous regional productions, Love Letters returned to Broadway in 2014, with actors such as Brian Dennehy, Mia Farrow, Carol Burnett, Alan Alda, and Candice Bergen filling its roles during its 95-performance run.
15. Murder for Two, music by Joe Kinosian, lyrics by Kellen Blair, and book by Kinosian and Blair (musical)
Like Greater Tuna, Murder for Two features two actors taking on multiple roles. After novelist Arthur Whitney is killed, the suspects include such personalities as Whitney's scene-stealing wife, a prima ballerina, and an overly-friendly psychiatrist. This comedic musical take on old-fashioned murder mysteries features one actor playing the detective while the other plays all of the suspects—and they both play the piano!
The show received its world premiere at Chicago Shakespeare Theatre in 2011, where the many-times-extended production played more than six months. Off-Broadway's Second Stage Theatre brought the show to New York in 2013, a production that later transferred to New World Stages. Since then, the show has toured the country and become a favorite at regional theatres nationwide. A special holiday version of the show, titled Murder for Two: Holiday Edition, premiered in 2016 at Bucks County Playhouse.
Logan Culwell-Block is a musical theatre historian, Playbill's manager of research, and curator of Playbill Vault. @loganculwell