Amy Daskilewicz: Definitely Wicked. Elphaba sticks to her guns and never backs down. Truly an inspiration.
Jose Luis Lee: Wicked…as a gay teen…this show is just WOW!
Shawn Adam Williams: Wicked all the way!
Kimmy Ortiz: Wicked! With two female main characters & a story about friendship and love, what could be better?
Multi-award winner and Broadway favorite Wicked has been playing The Gershwin Theatre since 2003. It is considered a top "female empowerment" musical for its two mighty leading-lady roles. Wicked recounts the untold story of the witches of Oz: Elphaba, green-skinned, smart, fiery and misunderstood, and Glinda, a beautiful, ambitious and very popular good witch. The show features several powerhouse musical numbers for both women, making them highly sought-after roles for actresses. The opening-night cast on Broadway included Tony winners Idina Menzel as Elphaba and Kristin Chenoweth as Glinda.
Yoshi Maloczewski: The Color Purple, hands down. It's no contest.
Based on Alice Walker's Pulitzer Prize-winning novel and Steven Spielberg's Oscar-nominated film, The Color Purple musical played the Broadway Theatre from 2005-2008. The heart-wrenching and inspiring story spans four decades and three continents, chronicling the life of an African-American woman who overcomes much adversity. With a joyous score that is a blend of jazz, ragtime, gospel and blues, the show offers an inspiring message about the strength of women. It will return to Broadway this fall co-starring Jennifer Hudson. 
Set against the backdrop of 1963 Louisiana and the growing Civil Rights movement, Caroline, or Change — by celebrated writer Tony Kushner and composer Jeanine Tesori — centers on the life of Caroline Thibodeux, a divorced African-American maid. Following an acclaimed Off-Broadway run at the Public Theater, it opened on Broadway at the Eugene O'Neil Theatre with Tony winner Tonya Pinkins in the title role, and played from April-August 2009. In the musical, Caroline faces the many challenges of being a single working mother as well as economic hardship and racial inequality. In the end, her difficult life is given hope through her independent and free-spirited daughter, ultimately making a positive statement about female empowerment.
Beautiful: The Carole King Musical
An iconic true tale of female strength, Beautiful tells the remarkable story of singer Carole King's rise to stardom, from fighting her way into the record business as a teenager to becoming one of the most successful solo acts in music history. Jessie Mueller won the Tony Award for her performance in the title role, while the musical has also garnered a string of awards and nominations. The production opened in November 2013 and continues to play the Stephen Sondheim Theatre on Broadway. Mueller will take her final bow as King March 6.
Legally Blonde: The Musical
Annie Kathryn Zanchelli: Legally Blonde! It's amazingly inspirational and you can't help but feel like you can accomplish anything even though others think you can't!
Based on the novel by Amanda Brown and the popular film starring Reese Witherspoon, Legally Blonde follows sorority sister and valley girl Elle Woods to Harvard Law on her mission to win back her boyfriend. Defying widespread cynical expectations, Elle proves that she is an intelligent, empowered woman whilst staying true to herself. The show's twist ending, in which she rejects the ex-boyfriend who never truly appreciated her, adds a bonus hit of girl power. Legally Blonde played Broadway's Palace Theatre April 2007-October 2008 and was nominated for seven Tony Awards. It went on to play the West End, where it won a string of Olivier Awards, and toured nationally.
Julie Palmer: Hairspray! A fantastic story of being yourself and achieving your dreams because of it. Winning Link Larkin's attention is quite the added bonus.
Based on the well-known John Waters film, the stage adaptation of Hairspray was hugely popular when it opened on Broadway at the Neil Simon Theatre in 2002. It went on to play 2,673 performances, closing in January 2009. Hairspray, a good contender for top female empowerment musicals, follows the story of unlikely starlet Tracy Turnblad, an overweight Baltimore girl who, despite her unconventional looks, becomes a regular on the local TV dance program. She "gets the boy" and uses her newfound fame to champion the cause of racial integration. Marissa Jaret Winokur played Tracy in the original opening-night cast on Broadway, a performance which won her a Tony Award.
Heathers the Musical
Based on the cult teen comedy 1988 film "Heathers" starring Wynona Ryder, Heathers the Musical was a fan favorite when it played Off-Broadway in 2014. The show tells the story of brainy and beautiful teenage misfit Veronica Sawyer and her dangerous liaison with lethal new kid J.D. When Veronica is kicked out of the most powerful and ruthless clique at Westerberg High, the Heathers, J.D. helps her conceive the ultimate deadly revenge plan. The show was adapted into a hilarious and heartfelt musical by the award-winning creative team of Kevin Murphy, Laurence O'Keefe and Andy Fickman. In the end, Veronica must use her wit and strength to outsmart the violent J.D. and the manipulative teenagers who conspire against her, ultimately coming out on top.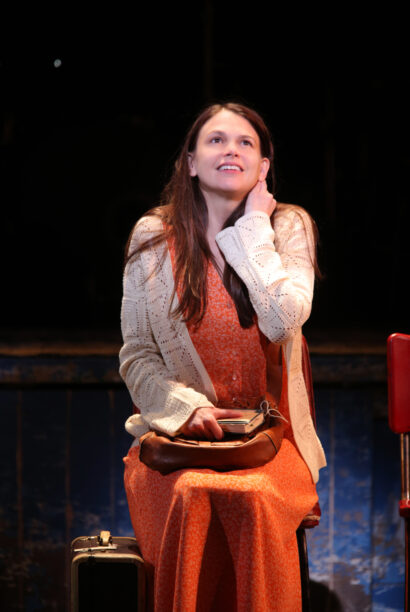 Violet absolutely shows female empowerment - the whole show Violet is fighting for what she wants, despite her fear&insecurities.
Violet's story is one many are familiar with, that of battling feelings of insecurity in an image-obsessed landscape. Set against the backdrop of the 1960's, Violet follows a woman who was facially disfigured in childhood on her quest for a miraculous transformation. The show was a critically acclaimed hit Off-Broadway before transferring to the American Airlines Theatre, where it played March-August 2014. Audiences were inspired by Violet's story, which proves that it often takes the journey of a lifetime to discover who you truly are. Two-time Tony winner Sutton Foster starred in the title role, a performance that saw her garner her sixth Tony nomination.