Read below to check out who our readers picked. While you're at it, make sure to follow us on Twitter, too!
Bailey Ford Laura: Benanti!!!! She makes me laugh so hard with every single tweet. Her dry and blunt humor is the best. And then there's the #Linda tweets that just make any day 100 times better!
Laura Rappoldt: I get on Twitter just to see Laura Benanti's tweets. They always make my day so much better. She's the funniest person ever! Get this woman her own dang comedy or talk show already!!!
Benanti is not only a Tony-winning Broadway star (Gypsy, Women on the Verge of a Nervous Breakdown, Into the Woods), she has also garnered a strong following for her hilarious antics on social media. With over 60,000 followers, her comic tweets include "I caught @raminkarimloo eating a sandwich SO EVERYTHING IS GREAT NOW #carbs" and "Why am I getting all this porn spam @twitter?! NO THANK YOU, NO THANK YOU, NO THANK YOU!" Her regular #Linda quotes (jokes based on on her mother) are also popular with fans.
Constantine Maroulis - @ConstantineM
Suzanne Connell: I love following Constantine Maroulis @ConstantineM. His tweets are a great mix of news about shows he's doing, comments about his favorite sports teams, the Yankees and Giants, random thoughts about the weather and everyday life and pictures of his little girl Malena. And it's great when he responds to his fans' tweets. Always entertaining.
Former "American Idol" Constantine Maroulis, is another Broadway favorite with a strong presence on social media. The brazen star isn't afraid to entertain his Twitter followers with tweets such as his Jan. 18 posting of picture of a woman asleep on the theatre stairs at a Rock of Ages performance with the caption "This lady has been passed out since High Enough…#lastshowin60." Maroulis received a Tony Award nomination for his role in the rock musical Rock of Ages in 2009; the rock tenor has also been seen on Broadway in Jekyll & Hyde and The Wedding Singer.
Lesli Margherita - @QueenLesli
Natalie Grillo: I go on Twitter everyday to see what Queen Lesli Margherita is up to. Whether she is tweeting about her dog Stewie, her daily silly New York occurrences, or her words of wisdom and realizations, she always makes me laugh
After winning an Olivier Award for her performance as Inez in Zorro The Musical on London's West End, Leslie Margherita  made her Broadway debut in 2013 as Mrs. Wormwood in the popular Matilda The Musical, a role she currently still plays. Known on social media s "Queen Lesli," the star often tweets motivational and comical messages to her 15,000 fans, such as "Don't Stop. Keep going. When u move forward ur hair gets blown in the wind like ur in a music video. U will look better. So keep going."
Amy Daskilewicz: I love Alan Cumming's Twitter. It's peppered with delightful bits of sass and wit. Also, it was how I found out he was coming to my city for a book signing.
Alan Cumming may have won a Tony Award for his performance as the Master of Ceremonies in Cabaret on Broadway, but the star is also the master of Twitter, with over 230,000 followers. The acclaimed actor regularly tweets laugh-out-loud messages to his numerous fans, including the recent: "I will be pulling on the harness, hoiking up my genitals and rouging my nipples only 24 more times. At least in @Cabaret_Musical, that is!" Cumming will soon finish up his role in Cabaret. His other Broadway credits include Macbeth and Threepenny Opera, as well as being a regular on the TV series "The Good Wife."
Kristin Chenoweth - @KChenoweth
Lyndsay Wilshaw Kristin Chenoweth! She takes the time to actually answer her fans, it's lovely.
Michelle McKean: Kristin Chenoweth - she is the whole reason I joined Twitter, and I have built amazing friendships with her Twitter followers too. Kristin's tweets ALWAYS make me smile. She is so funny and extremely caring towards her fans - she has a beautiful heart and is a big inspiration to me.
Star of the current Broadway revival of On the Twentieth Century, Kristin Chenoweth's numerous Broadway credits include Wicked, The Apple Tree and You're a Good Man, Charlie Brown, for which she won a Tony Award. The star is just shy of one million followers on Twitter but that doesn't stop her replying to her fans individually.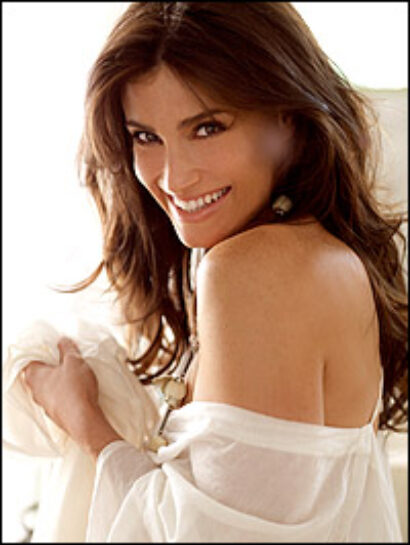 Sarah Coradiz; Idina Menzel and Kristin Chenoweth. They are both so laid back and willing to share insight on anything when asked. They are also fun when they are posting because they can make you laugh with that they have to say. They are also very inspiring as well, making you want to get to know them better and be a friend of theirs
Idina Menzel's starring performance in the new musical If/Then, about love, chance and destiny, saw her nominated for both Drama Desk and Tony Awards. Menzel continues to play the lead in If/Then at the Richard Rodgers Theatre through to March 22 when she will take her final bow after more than a year. The star has a host of exciting new projects for the future including a 2015 world tour. Her recent career feat as the voice of Elsa in Disney's global box-office smash "Frozen" has seen her fan base explode beyond the world of Broadway, as can be seen in her 630,000 followers on Twitter. She regularly shares jokes and candid personal insights via social media such as the following exchange between her son and her, "Earlier this eve..Son: I have a queen for a mama and a witch for a mama./ Mom: How does that feel?/Son: aaawesome…/Then he fell asleep."
Lin-Manuel Miranda - @Lin_Manuel
Natalie DiMario: Lin-Manuel Miranda because.... There's nothing not to love. He's hilarious, his profile picture of Colm is iconic, and his tweets leave me laughing for ages.
Jenna Fink Lin-Manuel Miranda. Obviously.
Man-of-the-moment Lin-Manuel Miranda (In the Heights) currently stars in The Public Theater's acclaimed production of Hamilton, the musical that he also wrote. The Broadway-bound show has extended numerous times and is already sold out through to its final closing date on May 3 (it hits Broadway in July). During its run, Miranda has kept his 50,000+ Twitter fans updated on the show with regular tweets featuring fun behind-the-scenes exclusives and pictures of celebrity guests like Paul McCartney and President Bill Clinton.
Billy Porter - @theebillyporter
Christina Alaniz: Oh and Billy Porter because he tweets profound positivity everyday and is such a kind soul.
Tony Award winner Billy Porter is much more than just the inspiring Lola in Broadway's acclaimed musical, Kinky Boots – the multi-talented performer is also an inspiration off stage. Porter uses his Twitter account to motivate his fans daily, with messages such as "Knowing & accepting yourself…figuring out the depth of ur being…is the beginning of true and meaningful wisdom." As well as, "Remember: 'In any given moment, we have 2 options…step forward into growth or to step back to safety. #IChooseGrowth." His further Broadway credits include Smokey Joe's Café, Grease and Miss Saigon.