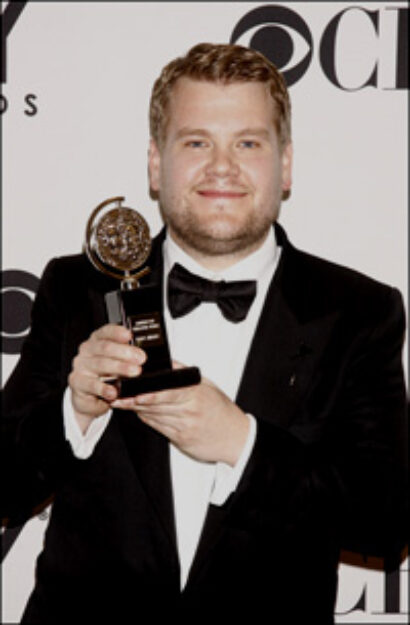 Corden confided in an upcoming interview with Playbill magazine, "That was my real mission, the first day to the last, really — just don't get fired from this film! When I watched it, I had an immense feeling of pride [from] being part of it. I'm proud of everybody else's performance. I'm proud of [director] Rob [Marshall]. I first did this as a workshop in 2012 in New York, and Anna Kendrick was part of that workshop; Christine Baranski was part of that workshop. To see him stay true to his vision that he had then to making the film is thrilling to be part of."
In 2012, when Corden was starring as Francis Henshall in One Man, Two Guvnors, he said that producers Rob Marshall, Marc Platt and John DeLuca saw him in his Tony-winning turn and asked him to be part of the early "Into the Woods" workshop.
"I genuinely miss being on stage in New York pretty much every day," said Corden. "I miss the experience I had when I did One Man, Two Guvnors and, of course, The History Boys. It was just a great time in my life, really… It changed my whole life. I wouldn't be in this film if it wasn't for [One Man, Two Guvnors]. Rob Marshall and Marc Platt and John DeLuca came to see the play and asked me to do the workshop… I did the workshop, and they said, 'We're going to make the film, and [we] want you to come and do it.' My whole life changed doing that show. It really did."
Now Corden stars in the one of the most eagerly anticipated film titles of the season. He plays the Baker, a role he dreamed to take on, in "Into the Woods," and his relationship with the material has come full circle.
"My first experience [with] the music was that I sung 'Giants in the Sky' when I was like 14 at an after-school drama club [event], and I thought it was the best song I'd ever heard," he said. After seeing a semi-professional production just outside of London, he thought to himself, "God, if this ever came back to the West End or to London in any way, I wonder if I would ever get the chance to play the Baker."
He added, "For it to be committed to film in such a fashion and be playing that role is almost too much for my tiny mind to take in, really."
Corden plays opposite Emily Blunt in the film, and the two are in the midst of dispelling a curse put upon them by the Witch next door (Meryl Streep) years earlier — leaving them unable to produce a child.
In their quest, Corden and Blunt were to take on an additional song, "Rainbows," which was written by Sondheim for a scrapped film version of Into the Woods in the 90s. Although it was reported that "Rainbows" might appear in the "Woods," Corden confirmed that it's "not in the film."
Here's why: "We rehearsed it, and it just didn't quite feel right. So often, in times like this, you go and try these things and dip your toes in the water and see how it feels. We rehearsed it a lot. The beauty of doing a film like this is that you have actual rehearsal time, and it just didn't quite feel [right in the show]… That was it, really. It's a beautiful song. I love the song. I think it's gorgeous. It's really, really nice, but it just didn't quite fit. It sort of disrupted the flow of the story, actually."
But, as for staying true to its source, Corden said, "I think it's the truest adaptation it could ever be. I really do. I think it's completely true. All of the darkness is there, all of the joy is there, all of the hope is there. I think the true purists will love it."
Earlier this year, it was reported that the Tony winner would return to Broadway in another musical by Stephen Sondheim, a revival of A Funny Thing Happened on the Way to the Forum in which he'd star as Pseudolus. The project was nixed shortly after CBS announced that Corden would succeed Craig Ferguson as the new host of "The Late Late Show" in 2015. "I can't wait to come back to New York, and I hope to do Forum one day," Corden added. "It's a genuine dream of mine. I have to go host this show called 'The Late Late Show' on CBS for a short time, and so I'm going to go and do that for a bit, and I hope after that I will be able to come and do Pseudolus in New York. It's a dream of mine."
Look for more from Corden and the stars of "Into the Woods" in an upcoming issue of Playbill magazine.
(Playbill.com staff writer Michael Gioia's work appears in the news, feature and video sections of Playbill.com as well as in the pages of Playbill magazine. Follow him on Twitter at @PlaybillMichael.)
Watch the Playbill Video exclusive clip of Streep's performance of "Stay With Me":