Dael Orlandersmith has made a living out of creating and performing her own work, and this month, the Pulitzer Prize finalist debuts her newest play Until the Flood at Rattlestick Playwrights Theater Off-Broadway (January 6–February 18); the new work weaves numerous interviews with St. Louis residents following the tragic death of Michael Brown to tell the story of a community reeling after the event. Running in repertory will be Mashuq Mushtaq Deen's solo play Draw the Circle (January 24–February 18), which emanates from his own experience transitioning genders from the perspectives of family members and friends.
Playbill spoke to the two artists about writing, performing, and promoting your own work Off-Broadway. Here are their seven essential tips.
1. You Don't Have to Be a Character in the Play
There's a common misconception about solo plays: that they're the same as a solo act, in which an actor or writer performs as themselves. In fact, plays like Draw the Circle and Until the Flood are more dramturgically similar to any play with a full cast—they feature numerous characters, plot, action, and dialogue. "A lot of people [see us as] 'solo writers,'" says Orlandersmith, "we're writers and performers. To me, it's just a piece of theatre. It has a beginning middle, end, conflict, resolution." When Deen first started developing Draw the Circle, he knew the play would be based on his life, but he didn't necessarily know that he would be in it as a character. In the end, he decided he wanted the piece to depict his experiences without him actually being in it. Similarly, Orlandersmith's Until the Flood features composite characters based on the real-life people she interviewed in St. Louis, and can be performed by an actor of any race or gender or even multiple actors.
2. Hone Your Playwriting Skills
Writing a full-length play for one actor is a major challenge for any playwright. "I give a lot of credit to people like Dael who do this a lot," says Deen, for whom Draw the Circle was his first foray into solo play writing. "I don't find it any easy medium to write in. Basic things like creating conflict onstage is much easier with two or more actors." Looking for a way to flex your creative muscle? This might be it.
3. Find the Right Collaborators
It's important to find the right people to read and advise you on your play while it's in its developmental stages. "I developed parts of Draw the Circle in a writing group and it was hard because [the other writers] didn't know what to do with solo work," says Deen. "Their support was great, but their structural advice wasn't." The help he needed arrived when he began working with a director who is experienced in the medium: Chay Yew.
4. Find The Director That's Right For You (And The Play)
"I had a lot of raw material and a general idea, but Chay was really instrumental in being an outside dramaturgical eye to help me see the whole play from the outside while inside of it," says Deen. "The same way the same actor isn't right for each play, the same director isn't right for each play," says Orlandersmith, who worked with Neel Keller on Until the Flood.
5. Stop Waiting to Be Cast
Writing your own play can be a productive way of giving yourself work. "I began writing for myself simply because of my physical type," says Orlandersmith. "No one knew what to do with it and if I waited on people to cast me, I wouldn't be working." In a similar vein, Deen decided to cast himself in Draw the Circle early on simply because it was challenging to find the right actors to do it at the time. "[During grad school] I was writing work that we couldn't even find actors for," he says. "I need South Asian actors, a butch woman… I found that I had to be in my own play because there was nobody else to do it."
6. Be Your Own Agent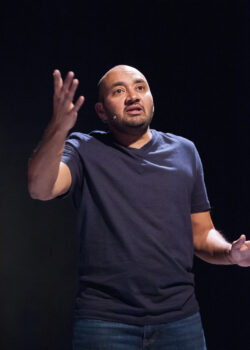 Early on in the development of Draw the Circle, director Yew warned Deen: "Nobody likes to read a solo play." While a solo play might be more affordable to produce, it can be challenging to sell to a theatre on the script alone. One way around that is to make a quality video recording of you performing the play, so producers can get a sense of the show and what you bring to it. While both Deen and Orlandersmith have agents, often, a production or commission is largely the result of a personal relationship with a theatre. Familiar with Orlandersmith's body of work, St. Louis Repertory reached out to her directly and commissioned Until the Flood, while the world premiere of Draw the Circle came about after Deen directly emailed Vivienne Benesch, artistic director at Playmakers Repertory Company. Don't be afraid to reach out and make connections.
7. Wear the Hats of Manager and Marketer
You'll already be doing tripple double duty as writer and performer, and on top of that, your own promoter, but it doesn't stop there. "Sometimes a theatre can 'sell you wrong' and you have to be on top of that," says Orlandersmith, "because that theatre may not have worked with a trans performer or woman of color." Both Deen and Orlandersmith say that they work closely with the theatre's marketing and administrative teams to make sure they are being marketed correctly and not exploited. "I make a lot of calls myself," says Orlandersmith.
Until The Flood and Draw the Circle play through February 18 at Rattlestick Playwrights Theater Off-Broadway.